A cyclist punched a pensioner during a "road rage" incident in Aberdeen and bashed his car with a bike lock.
Steven Gault's anger at motorist James Eddie during an incident on Victoria Road on July 12 was captured on video by a bystander.
Admitting the attack yesterday, Gault was told at Aberdeen Sheriff Court that he had "completely overreacted".
The 36-year-old, whose address was given in court as Wales Street, Aberdeen, admitted punching his victim to the head and body and to behaving in a threatening or abusive manner towards him.
Gault further admitted behaving in a threatening or abusive manner on June 5 on Hanover Street and wilfully or recklessly destroying property by kicking a car.
Sheriff Margaret Hodge told Gault he acted with a "high level of aggression" and "completely overreacted".
She handed him fines totalling £1,700 – which included £100 compensation to the woman in the first incident on June 5. Speaking after the case, Mr Eddie said Gault "should have been jailed".
Fiscal Depute Felicity Merson told the court: "The complainer is 71 years old and was driving with his wife."
She said he had gone to overtake Gault, adding: "The complainer heard the accused shouting and swearing, so slowed down. The accused pulled his bike in front of the car and slammed his fists on the car.
"The complainer got out of the car to confront the accused and to check his vehicle. An argument ensued before the accused cycled off 150 yards. The accused stopped again and began to rummage in his rucksack. He took out what was described as a bike chain."
The court heard Gault struck the car with the item and went on to punch Mr Eddie.
The other incident involved a 26-year-old female motorist who had pulled out to overtake, but was unable to do so and pulled back – and Gault then "kicked" the wheel arch on her car.
The court heard he had "what was described as a bike chain" – though it was later said to be a bike lock.
Gault then told the woman: "See this, if you move towards me I'm going to smash your window."
Ms Merson added that at one point Gault was "swinging" the item above his head and that the woman was "terrified and visibly shaking".
Defence agent Iain McGregor said that in relation to the first incident, his client, who has type one diabetes, had been suffering from a hypoglycemic episode at the time.
He told the court this was something he told police can make him "act like a different person".
He added that it was his client's position that the item he had was a bike lock which was secured around his waist. He said: "His position to me is what happened was the complainer was pulling out into his road space, as he saw it. That's what prompted the reaction on his part."
The solicitor added that the other incident "could properly be described as a road rage incident", sparked by something that was "perhaps not a collision with the complainer, but something fairly close to it".
Mr McGregor said things became "heated" and that Gault and the complainer were "fairly animated". But he conceded his client accepted he should have dealt with things differently, adding he "was in a position to cycle on".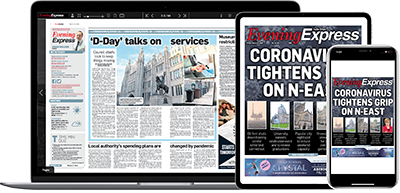 Help support quality local journalism … become a digital subscriber to the Evening Express
For as little as £5.99 a month you can access all of our content, including Premium articles.
Subscribe