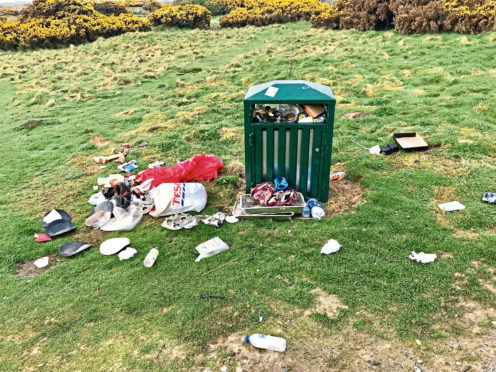 A north-east man has hit out at a local authority over lack of action regarding litter on a north-east beach.
Paul Collier, 45, complained to Aberdeenshire Council last year about the rubbish blighting the shores of Balmedie beach.
The bins, which have wooden slats over the top, give seagulls easy access to rubbish inside. Nearby Belhelvie avoids this problem by using bins with plastic flaps.
Aberdeenshire Council said when the issue was raised last year that its waste and landscaping teams were looking at replacing the bins in the Balmedie area with ones that prevented birds from gaining access.
However, Belhelvie resident Mr Collier believes nothing has changed since.
He said: "I still walk my dogs along Balmedie beach and the litter is still a problem. None of the bins have been fitted with flaps since last year.
"I put rubbish in the bin, go for a walk and, by the time I come back, the seagulls have pulled it back out again and into the bushes."
Paul believes the solution does not just lie in installing flaps across the tops of the bins.
He added: "I think we need more of the larger-style bins because there are more people visiting the beach now.
"After the bank holiday weekend it was just a mess. The bins were rammed with throwaway barbecues and I can't understand why people don't just take them home."
Mid Formartine councillor Paul Johnston said: "After the lovely weekend we've just had, there was an enormous quantity of waste and stuff left behind.
"I don't think the flaps on the bins will solve the entire problem, though, as we need people to be respectful and take a bit of responsibility, to see if they can't take their rubbish home with them.
"We have to find a solution – though the volunteers are doing as much as they can."
A spokesman for Aberdeenshire Council said: "We're currently in the process of replacing existing bins at Balmedie Country Park with spring flap bins when they are due to be replaced, as it would be uneconomic to replace all bins simultaneously."
He said the local authority is looking at "alternative" ways to address the problem.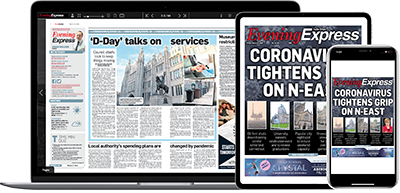 Help support quality local journalism … become a digital subscriber to the Evening Express
For as little as £5.99 a month you can access all of our content, including Premium articles.
Subscribe