An Aberdeen cafe which provides vital community support has been hailed a "massive success" as it marks its fifth anniversary.
Peggy's Cafe opened its doors in 2013 in Inchgarth Community Centre after the facility underwent a £50,000 refurbishment.
In the span of its five-year run, the cafe has made a profit of £150,000, which is invested back into the centre. The enterprise also offers volunteering and training opportunities to adults with learning disabilities and young people in the community.
Scott Rodgers, who suffered from a brain injury, is one of the 15 staff who volunteer their time to the cafe.
He said: "I found out about the cafe through a placement programme and have been volunteering at Peggy's Cafe for the last five years. I help wash the dishes and work the till. Because of my injury, it affects my ability to work in industry, but working in the cafe is a good way for me to stay active. I really enjoy it since it's always good for me to do some exercise.
"It's good work that the community centre is doing and I get to meet new people every day."
Paul O'Connor, manager for Inchgarth Community Centre, said: "The cafe has been absolutely vital for the community. It is a place where people can come and have something to eat before an art or social class starts within the centre.
"The idea behind the cafe is the social aspect and giving people training and volunteering opportunities.
"It's great to offer people in the area a place where they can bring their kids to the playpark outside and also have something to eat.
"Normally, when you take your kids out to a park there are no toilets or a place to eat nearby, so it's nice that we can offer that.
"As for the training, we had a young girl who had been rejected from 35 jobs and after offering her the chance to work the till, the coffee machine and in the cafe she was able to prove in her next interview she had the experience to work there."
He added that the success of the cafe is down to "great staff and volunteers" who dedicate their time.
Paul said: "The impact of the funding success from Aberdeen International Airport, who donated £50,000, five years ago has left its legacy for the community. It's an amazing project and created a legacy that the public supported.
"The financial aspect helps too, because in return we can donate and give money to those who need it the most."
Jo Duthie, who volunteers at the centre's foodbank TLC said she is happy to see how it has grown since it first started.
Carla Tiffney, a full-time staff member and the cook for Peggy's, said: "I have been with the cafe for just under a year and I love it.
"The only way to describe it would be that it's like being a support worker but not really. You help people out a little bit every day.
"I love my job. By now, I know everybody – our regulars who come through the doors.
"Every day is different and some are busier than others."
One of the schemes the cafe encourages is its suspended coffee initiative where people can buy a hot drink for someone less fortunate.
Carla said: "It's a great way to give back to those who really need it. We have at least six to seven customers who come in every day and pay for a suspended coffee. There are quite a few people who benefit from it and it can make a difference."
Over the years, the cafe has welcomed a range of people through its doors including current and former First Ministers Nicola Sturgeon and Alex Salmond.
As for the future of the eatery, Paul said they are setting their sights to expanding and moving the cafe to its own building within Inchgarth Community Centre.
And in June, eight community heroes from across Aberdeen will be recognised for their contributions at the Spirit of the Community Awards at Inchgarth Community Centre.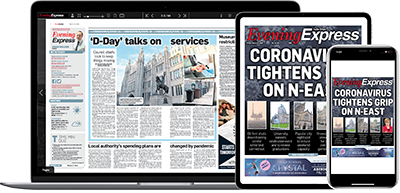 Help support quality local journalism … become a digital subscriber to the Evening Express
For as little as £5.99 a month you can access all of our content, including Premium articles.
Subscribe