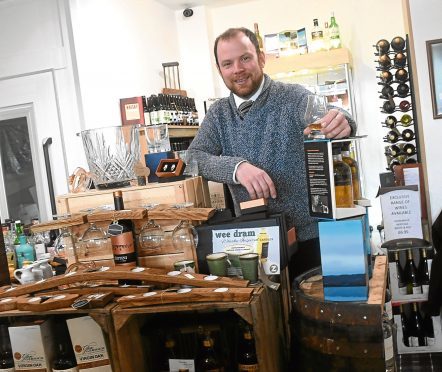 A Newly-established whisky store's boss is hoping to toast a win at the Evening Express Retailer Awards.
Director Mike Stuart has entered the Inverurie Whisky Shop for Specialist Retailer of the Year after a successful eight months of trading.
Today, tickets for the Retailer Awards event have gone on sale.
They are available to purchase on the Retailer Awards website.
The glittering ceremony is set to take place at the Mercure Ardoe House Hotel on Thursday, November 2.
With his eye on the prize, Mike is looking forward to finding out whether The Inverurie Whisky shop has been shortlisted ahead of the ceremony.
He said: "Being shortlisted would be incredible and would speak volumes for all of the hard work and efforts myself and the other director, Claire Hawkins, have put into the shop and into expanding our service offering.
"It's exciting being able to offer something unique in a local area and we're looking forward to seeing how we get on."
A panel of judges will decide on finalists for each of the categories at the end of August and the shortlist will be announced in the Evening Express.
Celebrating the hard work and determ- ination of North-east retailers, the Evening Ex-press Retailer Awards, which are sponsored by Aberdeen Inspired, highlight the very best aspects of the retail industry in Aberdeen and Aber- deenshire.
Mike said he put forward The Inverurie Whisky Shop as he believed it would be a good opportunity to showcase the hard work done by the business.
He said: "I never really knew much about the awards but then I had a look at them and there were a few which stood out to me.
"I'm not one for blowing my own trumpet but I thought it would be a good opportunity for the business so decided to enter."
Mike is passionate about supporting the local area and believes the awards are a chance for businesses to show their commitment to the local trade.
Mike, 33, said: "Inverurie has always had a really close-knit high street and it's always had independent stores.
"I think that within the town people have always felt loyal to local businesses.
"Although we have a dozen supermarkets, the High Street is still very popular and as a town we've always supported local retailers. It's sort of ingrained in us."
Entries for the awards are now closed.