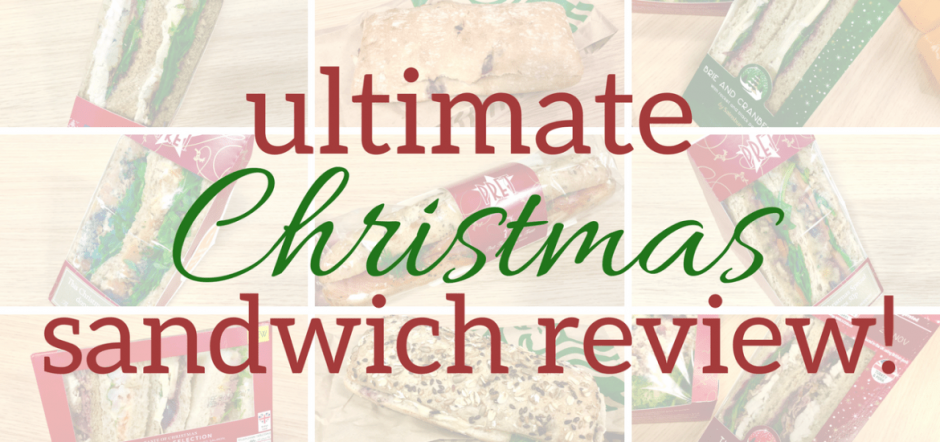 The Christmas sandwich is a new tradition at this time of year. Combining all our favourite festive flavours into portable lunch-break purchases. Everything tastes better between two slices of bread, right?
Over the past couple of years, as these new classics have been emerging in various shops, I tasted a few and enjoyed them.
This year, I tasted as many as I could before Christmas, so that you don't have to.
Below you'll find my reviews of loaded turkey feasts, to cheesy numbers, to newbie vegan versions, all in the name of the most wonderful time of the year.
I've been to M&S, Gregg's, Pret a Manger, Starbucks, Boots and even some supermarkets, to define what truly makes a great Christmas sandwich.
Without further ado, here's my top 5!
Marks & Spencer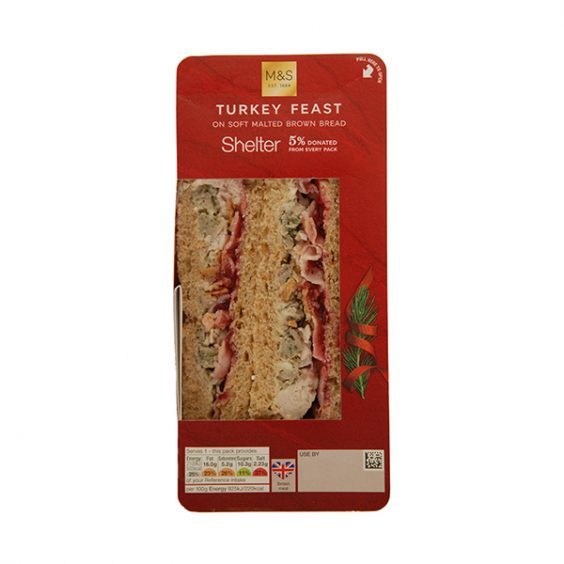 Turkey Feast
Roast British turkey breast with pork, sage and onion stuffing, cranberry chutney, smoked British bacon, mayonnaise and fried onions on malted brown bread.
If you ever needed the taste of boxing day in a sandwich, this is it.
The best lunch of the year for me is on boxing day, the 26th of December, when you pile all the delicious Christmas dinner leftovers between two thick slices of buttered white bread and grin greedily as you eat every mouthful.
This sandwich has everything but the roast potatoes inside it, and it certainly satisfies. The turkey breast is moist and tasty (which is not often the case with leftover turkey). The bacon adds a lovely savoury pigs-in-blankets element without being too salty, it was a little chewy for my liking, though I imagine this isn't easy to rectify in a cold sandwich. Onions and stuffing gave that classic Christmas dinner flavour, and paired perfectly with the meat. While the cranberry sauce gave an appealing colour, I couldn't taste it very much with everything else going on, and the mayonnaise did a better job of keeping everything moist.
I'd eat this sandwich again in a heartbeat, it felt the most Christmassy of all of the M&S range, and is such a treat to look forward to on your lunch break.
Tesco
Turkey and Trimmings
Turkey breast, chicken stock mayonnaise, sausage, cranberry sauce, sage and onion stuffing and smoked bacon on malted brown bread.
All mayonnaise should be chicken stock mayonnaise.
This is a serious contender for the best turkey-based Christmas sandwich.
Biting into this, you get layers of meat, stuffing and saucy flavours, really reminiscent of a good leftovers sandwich. The meats are moist, the stuffing is really tasty without being too rich or salty, the cranberry sauce is just present enough.
The real star here for me is the chicken stock mayonnaise; bold roast dinner flavour packed into creamy mayo, keeping the sandwich from getting too dry and adding bags of YUM.
While this sandwich is a little heavy and could use a bit of crunchy texture somewhere, from some crispy onions or some greens, the flavours make this a top notch lunch.
Pret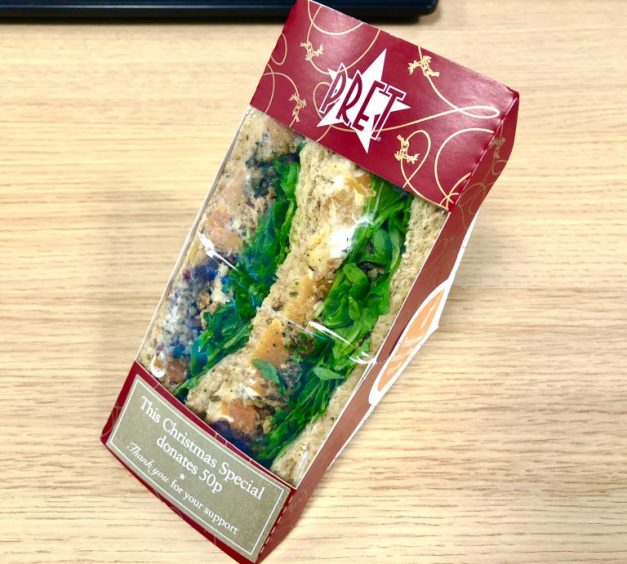 Pret's Veggie Christmas Lunch
Roasted chunks of butternut squash, rocket, nutty Christmas pesto made with walnuts and pecans, yoghurt dressing, and a sprinkling of crispy onions on malted bread.
We need this Christmas sandwich all year round.
If you try any vegetarian sandwich this year, make it this one. I'd go as far as saying that this sandwich has the ultimate balance of flavours and textures.
Soft, sweet squash against a super savoury and insanely delicious nutty pesto-stuffing type thing. Crispy onions and sweet cranberries in harmony with each other, married together by that tangy and creamy yoghurt and mayo dressing.
Even the rocket gets my approval, and usually greens are the worst of all foods! This sandwich is rich, salty, sweet and just utterly YUM. It even has two kinds of veg in it, so it's probably somewhat "healthy" too!
Basically, this one is a winner, and it tastes like everything a rubbish nut roast wants to be.
Pret's Christmas Lunch
Free range turkey, crumbly pork stuffing, crispy onions, spinach, cranberry sauce and mayo on malted bread.
A perfect balance of everything.
Pret really seem to know their stuff when it comes to Christmas sandwiches. While this sandwich certainly isn't innovative or even any different from the "turkey lunch" sandwiches on offer everywhere else, it's a perfect example of a good sandwich.
I will admit that the turkey here isn't as moist or tasty as the M&S turkey had been, but everything else is on point.
Tasty, meaty filling without being too rich or salty, a nice sweet-and-sour flavour from the cranberry sauce, and blessed by those glorious crispy onions. The spinach doesn't feel completely necessary but does add a nice texture and colour contrast. It's full on in flavour, without being too fatty or heavy, and every mouthful is reminiscent of this time of year.
I could eat this every day until Christmas to be honest.
Gregg's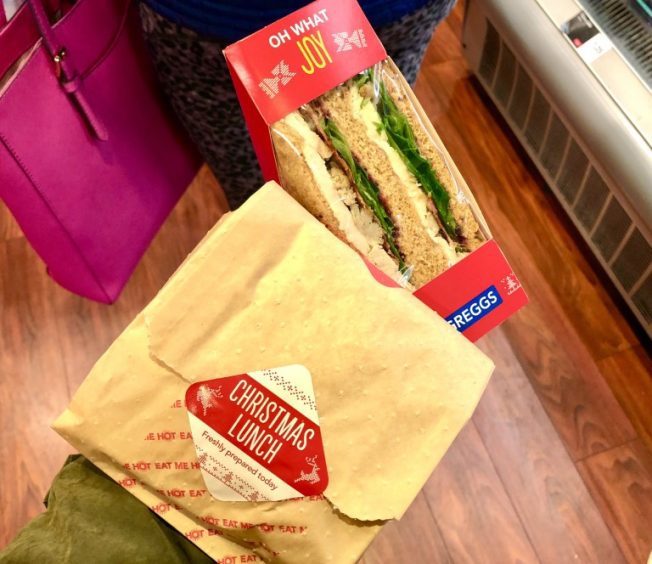 Christmas Lunch Toastie
Sage & onion flavoured pulled turkey, sweetcure bacon, cranberry relish, edam cheese, Mature Cheddar cheese and Bechamel sauce in white bread.
Ok, so this one got it spot on.
After the sadness of the Gregg's sandwich (which you can read about here), I wasn't exactly jumping at the thought of sampling this toastie. Biting into it though, I was pleasantly surprised!
This toasted sandwich had moist turkey, and much more flavour and texture from the sauces. The bacon was still a little chewy but less so than the sandwich's had been.
The cheese on top seemed odd but really worked, making everything taste festive and indulgent, as a Christmas sandwich should be. It was a little on the salty side, but I don't mind that too much.
I'd definitely go back for seconds of this toastie, and would recommend it to anyone who wants a yummy lunch without paying the Earth for it!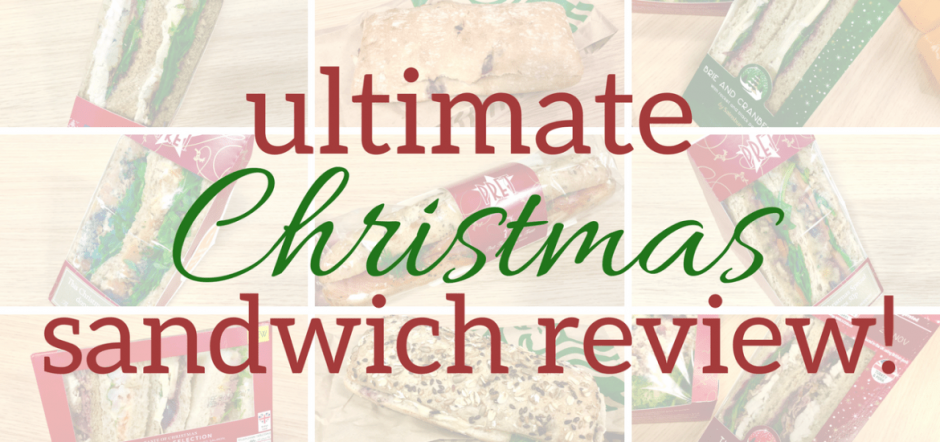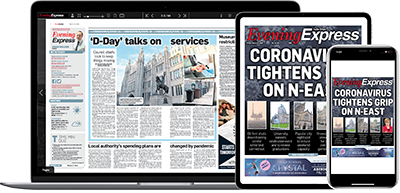 Help support quality local journalism … become a digital subscriber to the Evening Express
For as little as £5.99 a month you can access all of our content, including Premium articles.
Subscribe