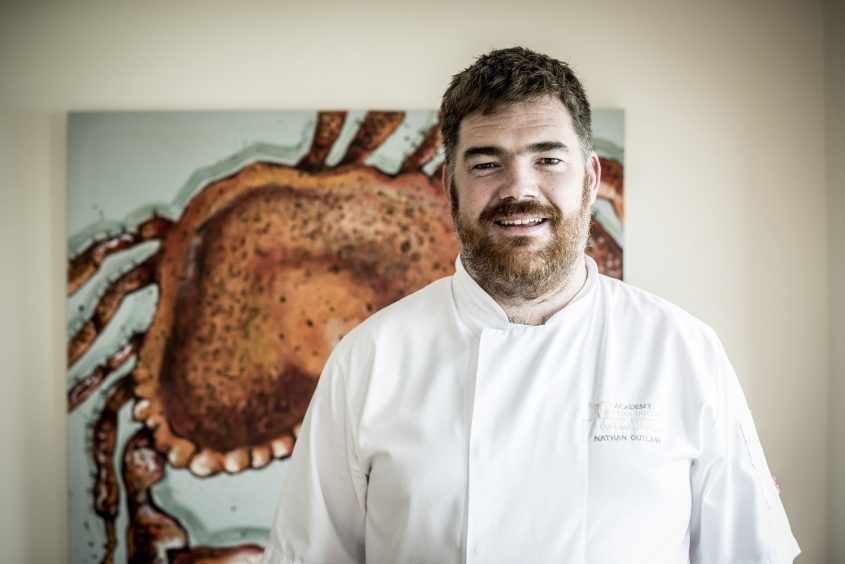 Apparently, Nathan Outlaw still can't quite master the art of roasting a chicken.
This is a man who has a two Michelin star restaurant, was mentored by Rick Stein and has written four cookery books.
And he can't roast a chicken?
"It always turns out differently every time," says the Kent-born, Cornwall-based chef, with a self-deprecating laugh.
Don't be taken in; Outlaw can handle chicken, he just doesn't do carbon copy, identikit chickens – but when you're best known for your seafood, who cares? His latest book then, Home Kitchen, is something of a detour.
"I wanted to write a book that covered all the bases if you had no other cookery book – a book that had all the recipes you needed for life."
It features some fish, of course, but is also packed with nostalgic classics like toad-in-the-hole, soups, risottos, how to do a proper Sunday roast (yes, chicken included), plus desserts – including his daughter's sticky toffee pudding. Throughout the writing process, he had his children (Jacob and Jessica) in mind, imagining the kind of cookbook they'll need when they go off to university or college.
"If they took this one book," he says, "there'd be enough in there for them to survive."
It's a very tasty safety net too, considering cooking is no longer taught comprehensively in schools. Outlaw, 39, explains he's "fortunate enough to be old enough to have done cookery lessons at school", but says it's disappointing how children tend to get just a term of Food Technology classes each year now, and are rarely taught basic kitchen skills in detail.
"It's not really like it was," he muses. "We all have to eat to survive, so you need to eat well, it's a no-brainer really, but it seems to be something that's a little bit lost in schools now."
After honing his filleting skills alongside Gary Rhodes and Stein, at just 25 – an age that doesn't seem quite so young when you consider he was cooking for paying customers at 14 – Outlaw launched his first restaurant, The Black Pig. Within a year, he was also a first-time dad (to son Jacob) and the recipient of a Michelin star.
"It's a bit surreal at first," he says, recalling what it feels like to be awarded a star – his Port Isaac-based Restaurant Nathan Outlaw holds two, the only UK seafood restaurant to do so.
"It's nice to know you've been recognised, but it's more for all the guys that work with me, because they work really hard to maintain a certain level."
Recipes courtesy of Great British Chefs. For more inspiration, visit www.greatbritishchefs.com
Nathan Outlaw's Home Kitchen by Nathan Outlaw, photography by David Loftus, is published in hardback by Quadrille, priced £20. Available now
---
Grilled Sardines with Paprika Mayonnaise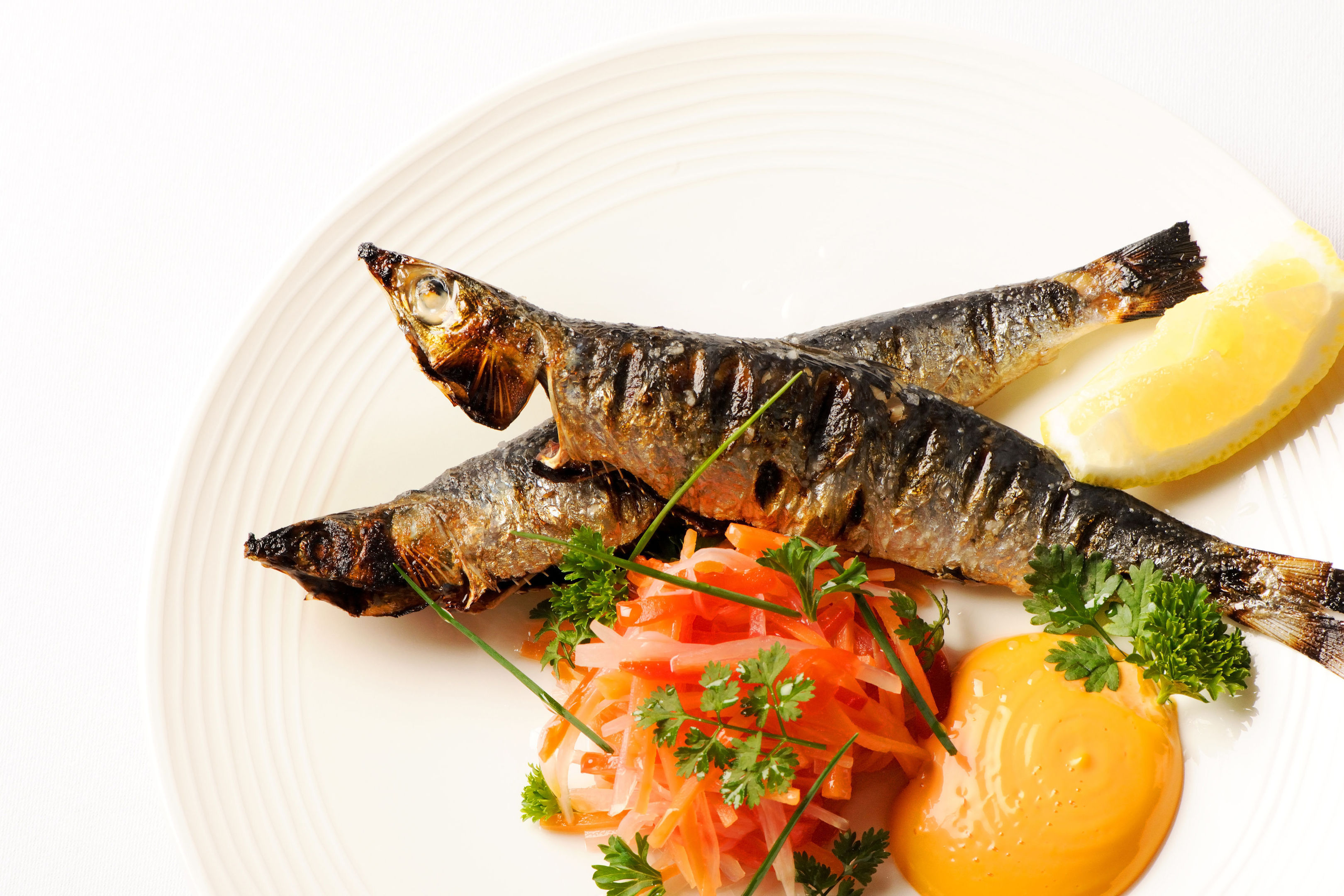 Ingredients
8 whole sardines
2tbsp of olive oil
Salt and pepper
For the mayonnaise:
2 egg yolks
1/2 lemon, juiced
200ml of olive oil
1 handful of French parsley (or flat leaf), finely chopped
1 handful of chives, finely chopped
1 handful of parsley, finely chopped
1tsp smoked paprika
Salt and pepper
For the pickled vegetables:
300g of shallots
300g of carrots
300g of red pepper
150ml of white wine vinegar
150ml of white wine
150g of sugar
150ml water
Method
For the pickled vegetables, thinly slice the shallots, carrots and red pepper (discarding the core and seeds). Combine the vinegar, white wine and sugar in a bowl, add 150ml of water and stir until the sugar has dissolved. Add the vegetables, mix well and set aside to marinate for one hour at least.
To make the mayonnaise, whisk together the egg yolks, two teaspoons of the lemon juice and some salt and freshly ground black pepper in a bowl until smooth and creamy.
Add about two teaspoons of the oil and whisk vigorously to incorporate. Continue adding the oil very slowly in a thin stream, whisking continuously, until all the oil has been incorporated. Stir in the herbs and paprika to taste.
To cook the sardines, preheat the oven to 200C/gas mark 6, and heat a chargrill pan until very hot. Rub the sardines all over with the olive oil and season with salt and black pepper.
Cook the sardines for one minute on each side, or until browned, then transfer to a rack in the oven for a further four to five minutes, until cooked through. Alternatively, you could cook the sardines on the barbecue before finishing in the oven.
Place two sardines on each serving plate. Drain the pickled vegetables and pile them on the plates next to the sardines. Finish with a dollop of smoked paprika mayonnaise and serve.
---
Mackeral, Tomato and Samphire Salad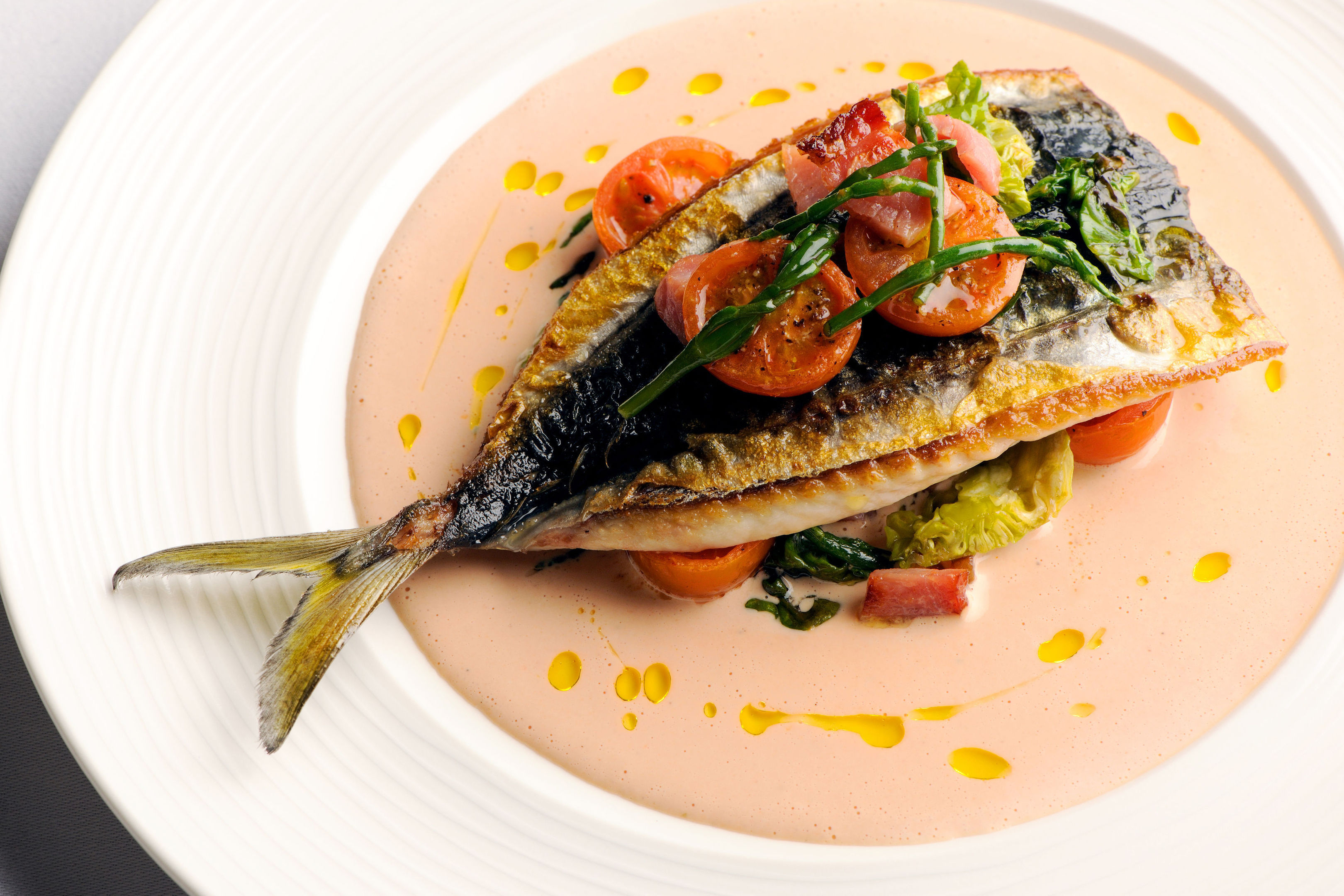 Ingredients
2 mackerel fillets, gutted, filleted, pin-bones removed
4 slices of smoked streaky bacon, large dice
8 cherry tomatoes, halved
2 little gem lettuces, leaves separated
110g samphire
10 basil leaves, torn
Salt
Olive oil
For the tomato stock:
8 vine tomatoes, ripe and roughly chopped
2tbsp of white wine vinegar
2 garlic cloves, chopped
1 tbsp of sugar
1 red chilli, de-seeded and chopped
Salt
For the mayonnaise:
3 free-range egg yolks
1tsp English mustard
1tsp white wine vinegar
300ml of light olive oil
50ml of double cream
Method
For the tomato stock, place the tomatoes, vinegar, garlic, sugar and chilli into a bowl. Season with salt and stir until mixed. Spoon the tomatoes into a large piece of muslin cloth and hang over a bowl in the fridge for at least six hours or overnight. Reserve the liquid collected from the tomatoes.
For the mayonnaise, mix the egg yolks, mustard and vinegar together in a bowl until well combined. Slowly add in the olive oil until the mixture thickens and then whisk in the cream. Add 150ml of the reserved tomato stock to the bowl.
Pour the contents of the bowl into a saucepan over a low heat, whisk continuously until heated through. Allow to gently simmer.
Meanwhile, place a frying pan over a medium-high heat and add a dash of oil. Once the pan is scorching hot, add the bacon and fry until crisp, remove from pan. Add the mackerel fillets, skin-side down, add the bacon back to pan and cook for one minute.
Add the cherry tomatoes, drizzle with a little oil and a sprinkle with salt, cook for a further three to four minutes. Remove the mackerel and tomatoes from the pan and set aside.
Add the lettuce and samphire to the same pan and cook for a minute.
To serve, ladle the warm mayonnaise into the middle of the plate, add the bacon, tomato, and lettuce mixture on top. Finish with the mackerel and small drizzle of olive oil. Sprinkle the torn basil leaves and serve.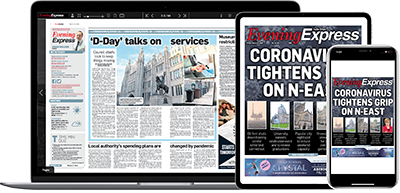 Help support quality local journalism … become a digital subscriber to the Evening Express
For as little as £5.99 a month you can access all of our content, including Premium articles.
Subscribe