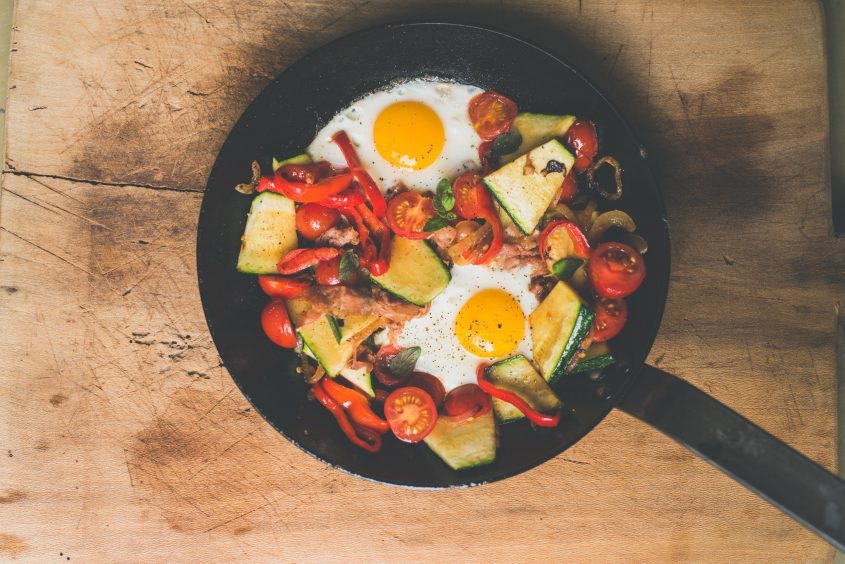 In fact, Dutch food journalist Janneke calls this recipe "a kind of pisto manchego". Whatever you call it, it's a quick, one-pan dinner that's ready in under half an hour.
It's pretty healthy too. Here's how to do it…
Pisto manchego
Olive oil, for frying
1 small (or 1/2 large) onion, sliced into half rings
1/2 long red pepper, deseeded and sliced into strips
4 slices of Serrano ham or chorizo, chopped
1/2 courgette or 1 baby courgette, cut in half lengthways and sliced into half moons
10 cherry tomatoes, halved
2 eggs
A few fresh basil or flat-leaf parsley leaves (or a pinch of dried oregano)
Salt and freshly ground pepper, to season
Bread, to serve
1. Heat a small splash of olive oil in a frying pan, add the onion and a pinch of salt and fry for two minutes over a high heat until the onion begins to brown.
2. Add the pepper and fry for two minutes more. Add the ham or chorizo and fry for another minute. Add the courgette and fry for two more minutes. Add the tomatoes and fry for another two minutes.
3. Make two depressions in the vegetable mixture and break in the eggs, then cook for two to three minutes until the eggs are set, covering the pan for the last 30 seconds. Sprinkle over a little more salt if necessary, and in any case with a generous amount of freshly ground pepper, and finish with one of the herbs.
4. Serve immediately with some kind of rustic bread, or just use whatever bread you've got on hand.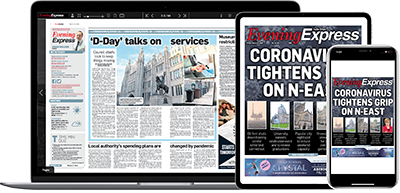 Help support quality local journalism … become a digital subscriber to the Evening Express
For as little as £5.99 a month you can access all of our content, including Premium articles.
Subscribe