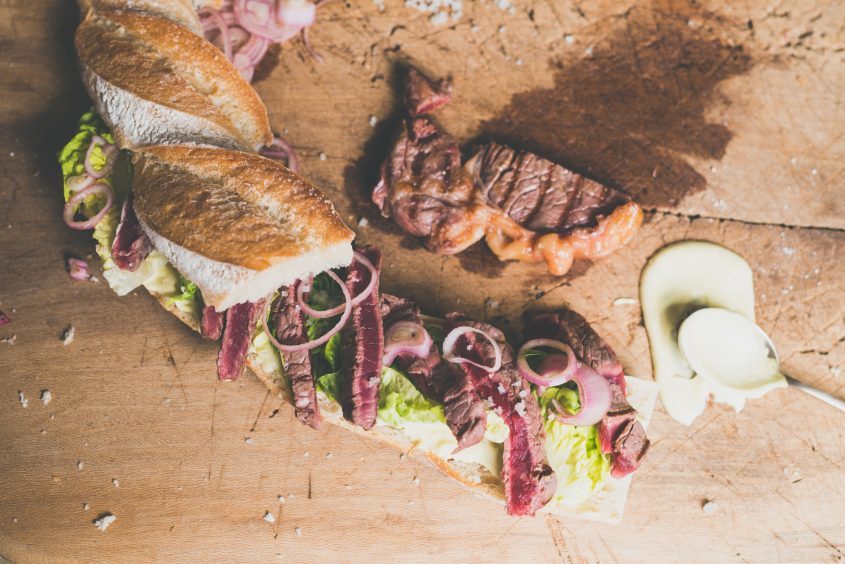 Is there anything better than a proper grilled steak sandwich? This one, from Dutch food writer Janneke's new book, comes with a mustardy mayo and topped with onions too.
Whip one up for yourself as a treat…
Good old steak sandwich
1 shallot, sliced into rings
A small splash of red wine vinegar
1 entrecote steak (around 150g)
1/4 baguette or a crusty bread roll
1-2tsp Dijon mustard
1-2tbsp mayonnaise
1 head little gem, leaves separated
Salt and freshly ground pepper, to season
1. Preheat the oven to 200°C/400°F/Gas 6. Put the shallot rings into a small bowl, add the red wine vinegar and let it sit for 10 minutes.
2. In the meantime, place a griddle pan over a high heat until it's very hot. Rub some salt into both sides of the entrecote. Fry the meat for one to one and a half minutes on each side. Place it on a cutting board, grind over some pepper and let it rest for a bit.
3. Warm through the French bread or rolls in the hot oven (or slice them open and toast in the steak pan). Meanwhile, stir the mustard into the mayo in a little bowl, to taste. Slice the warmed bread in half lengthways, then spread both halves with a generous amount of the mustardy mayo and add some lettuce leaves.
4. Slice the entrecote on the diagonal and arrange the slices in the sandwich. Squeeze as much liquid as you can out of the shallot rings and sprinkle them over the meat. Top with the other half of the bread, and dinner is served.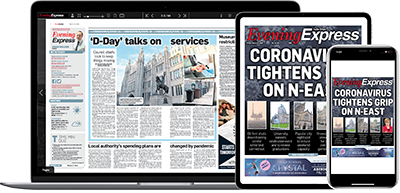 Help support quality local journalism … become a digital subscriber to the Evening Express
For as little as £5.99 a month you can access all of our content, including Premium articles.
Subscribe