Stephen Forbes didn't paws for thought when he saw this stunning property.
And despite being the man of the house – its border collie Kelso who is top dog.
Stephen, 37, who works as a change management consultant with Afiniti Ltd, said: "When I moved in in 2006 I was single so this house was pretty much a bachelor pad.
"I lived here for two years before I had an extension built on to the back of the house.
"While the house did retain great original features such as the woodwork, it was a pretty cold house, the rear garden was terrible and it had no garage either."
With a keen eye for design, Stephen was able to accomplish great things in the three-bedroom period home.
"I pretty much started from scratch and restored everything," he added.
"The greatest challenge for me was not to ruin the classic look of the home."
And what a sterling job Stephen has achieved … he has effortlessly managed to beautifully combine the traditional with the more modern features. New additions include proper insulation in the walls, double glazing and cosy, underfloor heating in his favourite space – the kitchen and family area.
Four years ago, Stephen met his future wife Hilary, 35, a secondary school teacher.
But there was one initiation Stephen had to pass before Hilary would consider a second date!
"Hilary's dating strategy was I had to pass the Kelso test," he said.
"Fortunately for me, despite Kelso not really caring for men, he liked me!"
Stephen had always wanted a dog but had no experience, however, with the help of Hilary, he too got his own pooch two years ago – Oban, a flat coated retriever.
The only evidence that remains to show this was once a bachelor pad is the music system in the lounge fire.
He said: "I thought it was really cool, as a bachelor my music system was more important than having an open fire."
Fortunately though, the fire in the lounge can easily be restored.
And while Kelso is mainly in charge there is one area of the home which is certainly Stephen's domain – the luxury Bontempi Cuisine kitchen, which has stunning granite worktops and a wide breakfast bar.
"Barbecue food is my speciality and I pretty much will barbecue anything," added Stephen.
"All year round, come rain or shine."
The front of the beautiful terraced home gives nothing away to what lies beneath. This is one property that really is top class.
The accommodation comprises on the ground floor a lounge, dining room, open plan kitchen/family room, utility room and cloakroom.
The master bedroom, two further double bedrooms, and family bathroom is on the upper floor.
Stephen and Hilary are looking to embrace country living so the dogs can run free.
But the new home will also have to pass the Kelso test.
"Let's just say he is a smart dog, and I know my place.
"It's been a great home to me over the years, but its time to move on for us as a family to take the next step."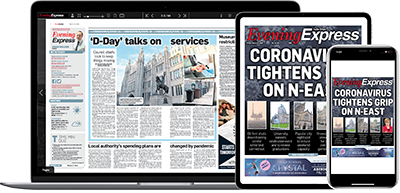 Help support quality local journalism … become a digital subscriber to the Evening Express
For as little as £5.99 a month you can access all of our content, including Premium articles.
Subscribe