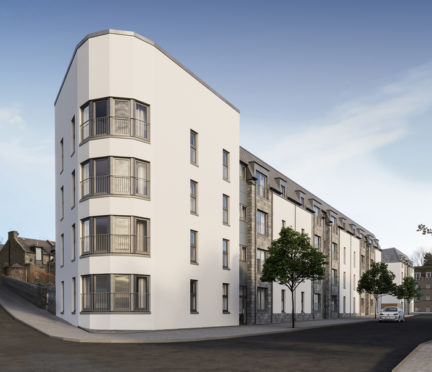 A peaceful haven with all the home comforts and convenience of modern living right in the heart of Aberdeen?
Sounds too good to be true, right?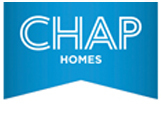 That's where Marchstone Point in Old Aberdeen comes in: CHAP Homes' new development in the vibrant city center represents the very best of contemporary, urban living.
With construction underway, the first phase in the development of 31 stylish new two and three-bedroom apartments is set for completion early 2019, with a show apartment available to view from early autumn this year.
With a price release coming soon – watch this space! – some of the properties will be available under Help to Buy: the Scottish Government-backed initiative offering purchasers 15% of the property's value on a shared equity basis, paid back when the home is sold.
The spacious apartments give purchasers, including professionals and first-time buyers, a rare chance to own their very own relaxing space in the heart of the city: a space in a thriving neighbourhood that's a stone's throw away from all the world-class amenities the granite city has to offer.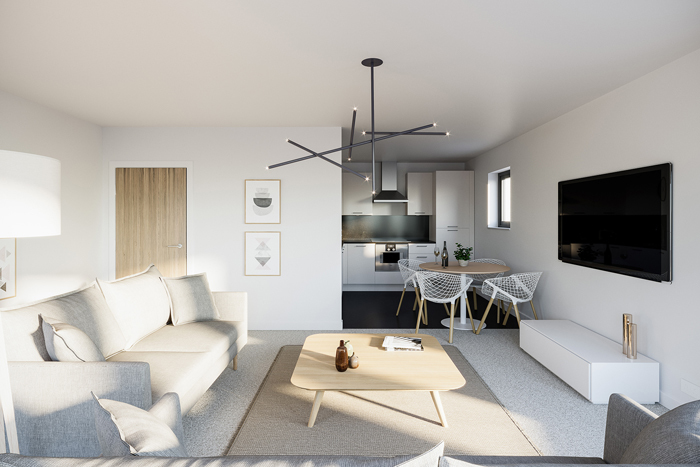 With audio entry security systems, each apartment effortlessly combines low maintenance, urban sophistication with home comforts including superfast broadband and satellite TV, private parking, a secure cycle store and fully-maintained, landscaped gardens – so you can relax in the outdoors without having to lift a finger.
Quality fitted Spanish bathrooms and en-suites – featuring Porcelanosa's contemporary tile range – complement open-plan German kitchens with integrated modern appliances that lead on to living areas beautifully combining light and space.
The Nobilia kitchens include co-ordinating worktops and splashbacks, combined with feature glass panels behind every hob; while Roca's sanitaryware's stunning modern lines mean every bathroom is a haven of peace and tranquillity.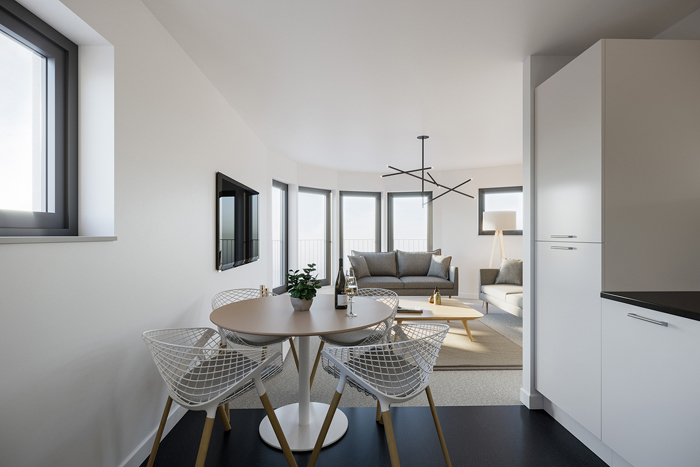 CHAP's sales supervisor, Karen Davidson, said: "As you'd expect with a new build apartment, each home represents low maintenance, energy efficient living.
"These aspects will be front and centre in every apartment right across the development, from design through the construction, and include high quality insulation and energy efficient combi boilers."
The bustling neighbourhood of which Marchstone Point will become a central feature is as much a selling point as the properties themselves.
Karen said: "While each apartment is finished to a high specification with meticulous attention to detail, buying a home at Marchstone Point goes beyond bricks and mortar.
"At the heart of this development is the chance to truly connect: to be part of a community in its widest sense.
"Today, this dynamic city is a global commercial hub that's also home to world-renowned medical expertise and pioneering universities, existing hand-in-hand with a vibrant cultural, leisure and social scene. And here at Marchstone Point, you're right in the middle of everything that's going on."
For work, study or leisure, Marchstone Point is a great base to reach all four corners of Aberdeen and beyond, including nearby universities and medical centres; the established business hubs of Altens and Dyce; as well as Westhill's renowned subsea centre of excellence.
And it's not all work and study.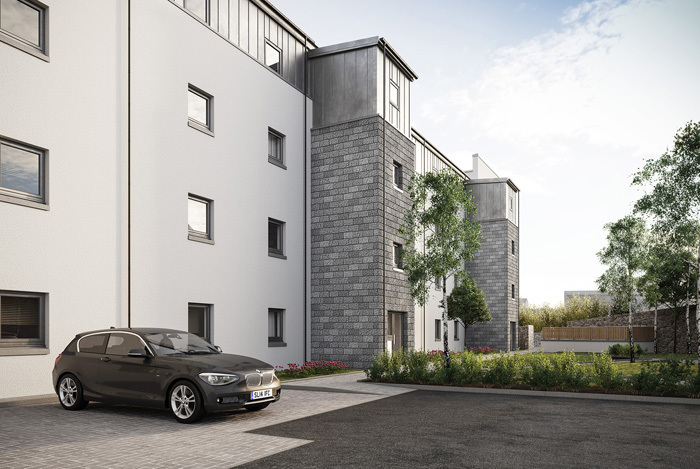 The development is perfectly located too for all of Aberdeen's pubs, clubs and film and live entertainment venues. And it's close to Marischal Square – which offers a great combination of attractions including popular coffee shops and restaurants such as All Bar One and Mackie's 19.2 ice cream parlour.
For something more active, you're less than an hour's drive from the Cairngorms National Park – Britain's largest – and the city has a thriving sport and leisure scene, with one of the best facilities in the UK, Aberdeen Sports Village, just minutes away.
Plus, if you fancy a change of scene, Marchstone Point is close to excellent road, rail, sea and air links for domestic and international travel.
But what about the name?
The development may be modern with the latest home comforts, but CHAP Homes is keen to point out the development's links with Aberdeen's heritage.
Karen adds: "Close to the development are two march stones (59ABD and 60 ABD) – their name taken from the 16th century meaning of march as a boundary.
"These stones marked the edge of lands that ultimately came under the responsibility of the Royal Burgh of Aberdeen: giving Marchstone Point its very own connection with the way Scotland's third largest city acquired its boundaries."
Interested in finding out more? Visit our – https://www.marchstone-point.com or contact Karen Davidson on 01224 748500 or 07825 337145 or by email on kdavidson@chap.co.uk.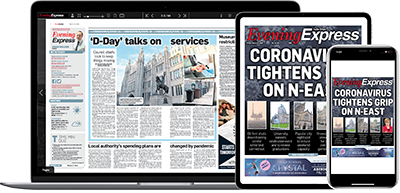 Help support quality local journalism … become a digital subscriber to the Evening Express
For as little as £5.99 a month you can access all of our content, including Premium articles.
Subscribe