Winter warmer ahoy! As the Japanese call it, 'kare raisu' was brought to Japan's shores by British diplomats and military officers, who were making a less spicy version of the Asian original, thickened with flour.
Nanban chef, Tim Anderson, explains: "Whereas an Indian curry will be naturally thick from pureed onions/tomatoes/chillies and a whole heap of spices, Japan's curry is based on a flour-and-butter roux that thickens a lightly-spiced stock-based sauce."
Tim's recipe is vegetarian, but can easily be made meaty with chicken, beef or pork: "In fact, you can add just about anything you want," says Tim, "at the restaurant we put ham and cheese on it and it's amazing."
Curry Rice
1 onion, cut into small chunks
2 carrots, peeled and cut into wedges
400g floury potatoes, peeled and cut into bite-sized chunks
1/2 cauliflower, broken into bite-sized florets
4 portions of cooked rice (300g uncooked)
For the curry sauce:
4tbsp oil
1 large onion, roughly chopped
2cm piece of fresh ginger, peeled and finely sliced
1 green chilli, roughly chopped
2 garlic cloves, peeled
2 tomatoes
1/2 Golden Delicious or similar apple, peeled and roughly chopped
1/2 banana
30g mild Madras curry powder
2tbsp garam masala
750ml chicken or beef stock
60g butter
6tbsp plain (all-purpose) flour
2tbsp ketchup
2tbsp soy sauce
Salt
For the sauce, combine the oil, onion, ginger, chilli, garlic, tomatoes, apple, banana, curry powder and garam masala in a food processor and blitz to a paste. Pour this into a saucepan and cook on a medium-high heat, stirring often, until the mixture begins to caramelise and the spices become aromatic. Add the stock and bring to the boil.
Meanwhile, melt the butter in a separate saucepan and whisk in the flour. Cook on a low heat for about eight minutes, stirring constantly, until the roux thickens and turns a golden brown colour.
Ladle the curry mixture from the other pan into the roux, a little at a time, whisking constantly to incorporate. Add the ketchup and soy sauce.
Cook the mixture until it's quite thick, then transfer to a blender or use an immersion blender to puree until very smooth. Taste and adjust the seasoning with salt.
Place the onion, carrots and potatoes in a saucepan and cover with water. Bring to the boil, add the cauliflower and reduce to a simmer.
Cook for about 10 minutes, until everything is tender. Drain and return to the pan, and pour in the curry sauce. Bring everything back to a simmer and serve with the rice.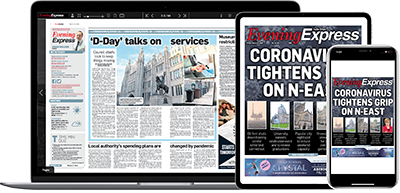 Help support quality local journalism … become a digital subscriber to the Evening Express
For as little as £5.99 a month you can access all of our content, including Premium articles.
Subscribe