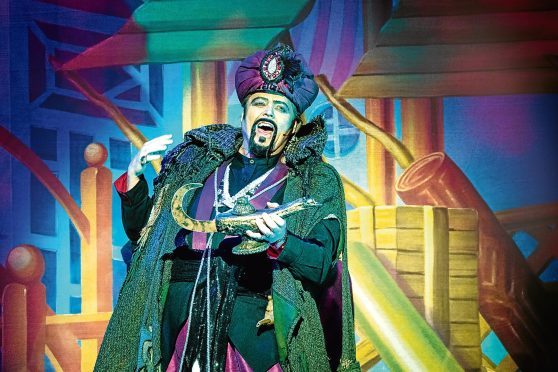 It's good to be bad … just ask Jimmy Osmond who's loving his star turn in the sparkling Aladdin panto at His Majesty's.
The singer and actor has won over Granite City audiences with his take on the villain of the piece, Abanazar.
Jimmy said: "I like that nobody expects me to be the baddie.
"I have now been the baddie a couple of times in pantos, but it is still something opposite to what people expect.
"It's fun to channel the inner baddie. And little kids are holding on to their mums, which makes me think I am doing a good job," he said, laughing.
Jimmy loves working with everyone on the show, which also stars top panto double act Alan McHugh, as Widow Twankey, and Jordan Young as Aladdin.
He said of working with the comedy pairing: "They are so strong; they are such a great comedic duo.
"I do not really think about my part in the show, but I love watching what they do."
Jimmy said he particularly enjoys collaborating with Alan, who wrote not only Aladdin but the scripts of several pantomimes for Qdos Entertainment, the world's biggest pantomime producer.
Alan wrote Jimmy's character, Captain Hook, for last year's production of Peter Pan in Swansea.
And Jimmy is full of praise for this year's HMT spectacle.
He said: "There are so many great magic moments. I was a producer of a magic show in America and the flying carpet is done so well – so is the big snake that comes out. They did a great job putting it all on stage."
The singer is excited to see his family over the festive period. He said: "My wife and three kids are coming to Aberdeen so I am just running and buying trees and decorations between shows.
"We have always had great fun doing pantomimes during Christmas. I have a lot of great memories.
"And Aberdeen actually really surprised me. Learning the Doric has been exciting.
"I love the people, the architecture is quite cool and there is a lot of history up here.
"I have not had much of a chance to go and look at some of the great landscapes you guys have in Aberdeen, so I intend to do that."
Jimmy is best known as the youngest member of The Osmonds, the US band that hit its peak of popularity in the 1970s.
But fewer people know he is the Guinness World Record holder as the youngest performer to have a number one single in the UK.
He topped the charts with his song, Long Haired Lover From Liverpool, when he was just nine years old.
Last year, Jimmy celebrated his 50th year in show business.
And there was plenty to celebrate.
He said: "The rock 'n' roll days, touring, playing big arenas – that was exciting in the 70s.
"But there are so many different textures and different moments in showbusiness and I have never been afraid to be behind the scenes. I do not have to star in anything. I just like being a part of different aspects of the business.
"It is all different things. Meeting the Queen was a big deal for me. I met her a couple of times actually. She was so gracious.
"I love it over here because you guys make me feel I am not just a member of a band that was popular in the 70s but I was able to do I'm a Celebrity Get Me Out of Here!, Masterchef and all these crazy shows. Every one of them has been a highlight of my life."
Aladdin runs daily until January 7. And on January 31, Jimmy starts touring with his successful Andy Williams tribute show, Moon River and Me.
He said: "I really love this show. Andy Williams was the guy who made it happen for me."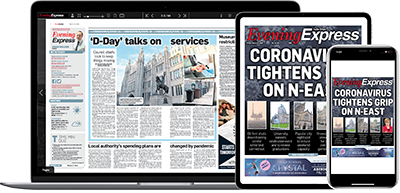 Help support quality local journalism … become a digital subscriber to the Evening Express
For as little as £5.99 a month you can access all of our content, including Premium articles.
Subscribe