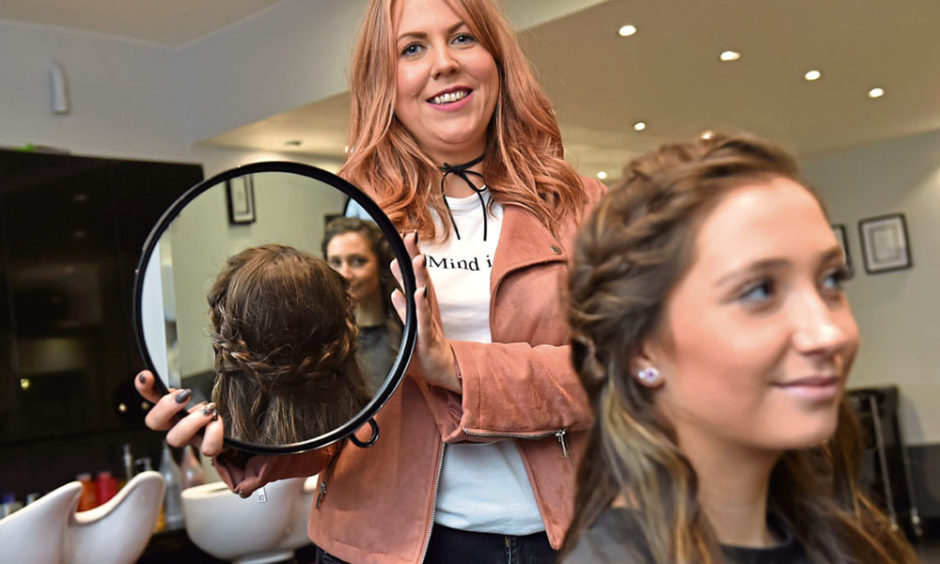 Everyone loves a night out on the town with their friends. However, it's the tedious process of getting ready that can sometimes prove more hassle than it's worth.
Taking the stress out of getting prepared, the hair and beauty professionals at Naked Pride on Bath Street in Aberdeen know all too well how to ensure their clients are prepped and ready to hit the town.
Providing an array of services including waxing, eyelash application facials and more, the salon is a one-stop-shop for all hair and beauty needs.
Emma Gordon, senior hair stylist, and Kristina Baron, a part-time nail technician at the salon, show us just how easy it is to get clients looking fabulous.
Emma, who has been working in the hair industry for 20 years, is an independent stylist and rents a chair at the salon. Creating a relaxed braided look, she says it's a style that everyone can achieve – and one that will last.
"It's a relaxed braided hair look that is simple to achieve and stays all night," said Emma.
"I wanted to keep some of her hair down because she has quite long hair and I didn't want to hide that. A braid is always a really casual, yet smart, look and has a lot of texture. It's quite a fresh look I've created and is something that's fairly easy to achieve. It's definitely something you'd have for a night out or a formal event."
Creating bespoke styles for each client, it's down to the length of hair and the desired look that determines how quickly a hair-up can take.
She said: "A look like this would usually take around 30-45 minutes to create, but it really depends on what the client wants. The more advanced the style, the longer it will take, but it's really dependent on what they want and the length of their hair."
But it's finishing off the braid by teasing it out that can completely change how it appears.
"It's curled hair with a beautiful, relaxed braid and it's really the braid that makes a statement. The teased braid is nice and easy to create. You just lightly pull the hair, teasing it out of the tighter braid to loosen and relax it all. And a relaxed look is definitely more popular just now," Emma added.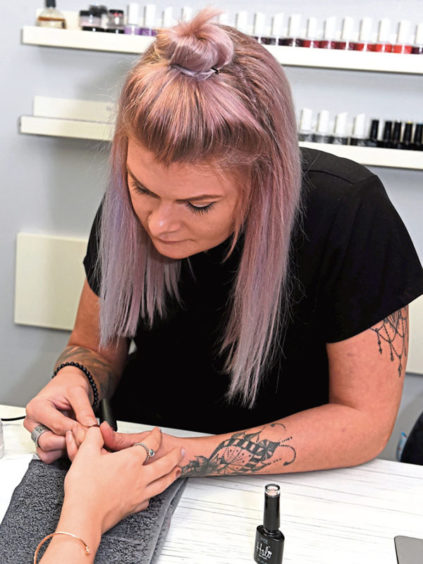 Focusing on a quick nail job to complement the relaxed hair look, nail technician Kristina – known to her clients as Tina– has created an easy-to-maintain gel polish look.
Working in the beauty industry for 12 years, Tina, who has been at Naked Pride for five months, has seen various trends come and go, with one colour withstanding the test of time – nude.
She said: "Nude is a popular colour all year round. You can't go wrong with it, as it goes with everything and is very much the fashion just now. It's easy to look after and when it grows out, you don't notice it as much as you would with a bold colour or nail art."
Bringing a little glitter and glamour into the mix, Tina has added a dark nude glitter colour to the ring finger and thumb.
"The sparkly dark nude colour is perfect for adding a little bit of sparkle to the nude nail look," said Tina.
"Adding a glittery polish to a few nails only is quite popular with clients who go for one certain colour, but are looking to add that something extra to their nails.
"Glitter will be massive for the festive period and is always really popular around then. The ring fingers always seem to be the nails that people want something different on."
But with so many options now for nails including nail art, manicures, pedicures and acrylics, the options are endless for clients.
Tina said: "I started doing nails back in 2006 and I did a number of other things like waxing, eyebrow tinting, lash tinting and more.
"I loved doing nails so much that I decided to focus primarily on them. There are so many options now for nails and every client wants something unique."
*Visit Naked Pride at 2 Bath Street, Aberdeen or follow them on Facebook by clicking here.
How to get this season's look:
Your hair needs to be clean, so be sure to wash it.
Put mousse through it to give a bit of texture. Add a texturising spray or dry shampoo to dirty the hair up if it's still quite silky.
To create the curls, use tongs or straighteners. Section off the hair and create the curl.
Once you've curled the whole head, set each curl with hairspray.
To create the pleat, section a part of the hair from the front that you want to use to create the start of the pleat.
Taking hair from either side, section it off and create the pleat itself.
Once happy with the pleat, tease hair out of the pleat – but not pulling it out of the pleat – to create a relaxed braid look to soften out the look.
Lastly, use a finishing spray such as strong-hold hairspray.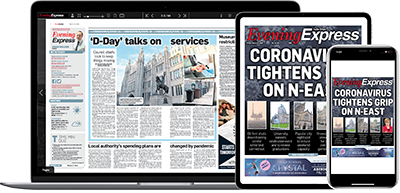 Help support quality local journalism … become a digital subscriber to the Evening Express
For as little as £5.99 a month you can access all of our content, including Premium articles.
Subscribe