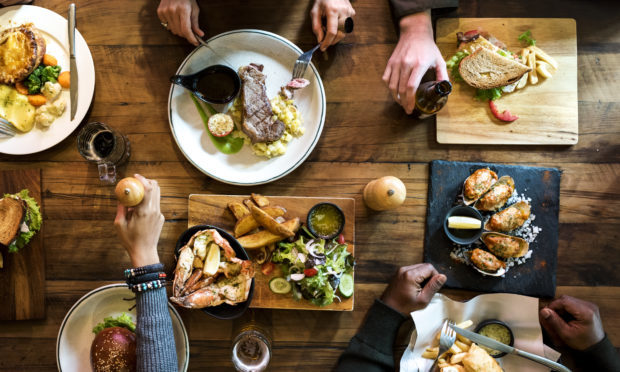 Whether you're a fan of Indian food, Italian or just good-quality food, Aberdeen ensures you're well catered for.
Here are the top 10 restaurants in the city, according to TripAdvisor.
Staff at Shawarma are kind and endearing people, they like to brighten customer's days with humour, according to reviewers.
One said: "for starters my day was brightened with an excellent welcome… amazing quality of food, 5 stars for Shawarma they are the best kebab shop in Aberdeen!"
Aberdeen's first Lebanese restaurant and takeaway is so delicious that guests were so overjoyed with their visits.
"The food was more than delicious and the owners of the place were very friendly," said one TripAdvisor user.
Monsoona is often described as Aberdeen's "finest" Indian restaurant with its combination of healthy yet delicious food.
One diner described their meal as "excellent" and "extremely tasty with so many textures".
Lamb Tikka Dupiaza @ £10.50A medium hot sauce having maximum quantity of seasoned fresh onion, green pepper with…

Posted by Wild Ginger on Monday, 21 May 2018
This delightful restaurant caters for vegetarians, vegans and they also have gluten-free options.
One reviewer on TripAdvisor described Wild Gingers as a "lovely modern restaurant (with) fantastic staff and amazing food".
Reviewers praised this eatery for its high-quality food, perfect presentation and generous portions.
"Good food with excellent service in a great atmosphere. Starters were out of this world and could settle for that as a meal. Portions were good" commented one reviewer.
Food at the Montmartre Restaurant is so good that customers are jump at the chance of going back.
One said: "The service is first class, friendly and attentive. The food was absolutely delicious. Brilliant meal I will definitely be back"
Madame Mews café may be hidden away inside Aberdeen market, but those in the know are in love with the Thai eatery.
One reviewer said the "food was very tasty" adding "it has blots of tables and feels like eating in Thailand".
This Italian restaurant is vegetarian-friendly and has vegan options and according to reviewers is great for a family day out.
A customer enjoyed their time here so much they said they couldn't wait to go back.
They said: "We had a family meal here last Saturday…really, really enjoyed ourselves. The service was brilliant; the food was fantastic and a very reasonable price. Can't wait to go back!"
French restaurant Café Boheme prides itself on their customer service as well as their food – and judging by the reviews on TripAdvisor it's with good reason.
One customer said: "This place is fantastic, had a great meal here recently on a weekend break. Great service and reasonable prices for the quality on food on offer."
This American, Cajun & Creole, barbecue has been a firm favourite in the city since it opened a couple of years ago.
Customers described the restaurant as "absolutely excellent" adding "would highly recommend this place. Food was amazing and the staff were both helpful and attentive".