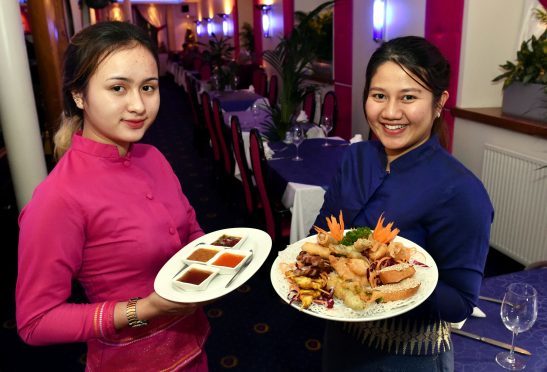 Just over a year ago I discovered Royal Thai for the first time and really enjoyed it.
Since then not a whole lot has changed at the 25-year-old restaurant.
The food on my most recent visit wasn't quite as delicious as I remembered, but it was still excellent and I'd comfortably say this is currently my favourite Thai restaurant in the city – albeit there's a few I've still to cross the threshold of.
After perusing the fairly sizeable menu we opted for the Royal Platter (£7.50 per person) – or Ton Sum Rub if your Thai pronunciations are better than mine … I chose not to embarrass myself and just read out the menu number to our server.
The platter boasts a "sumptuous variety of dishes" and it certainly gives a good cross-section of the starters on offer on one plate.
With chicken satay, grilled pork skewers, chicken in pandana leaves, chicken spring rolls, fish cakes and prawn sesame toast, it is no small eat to kick things off either.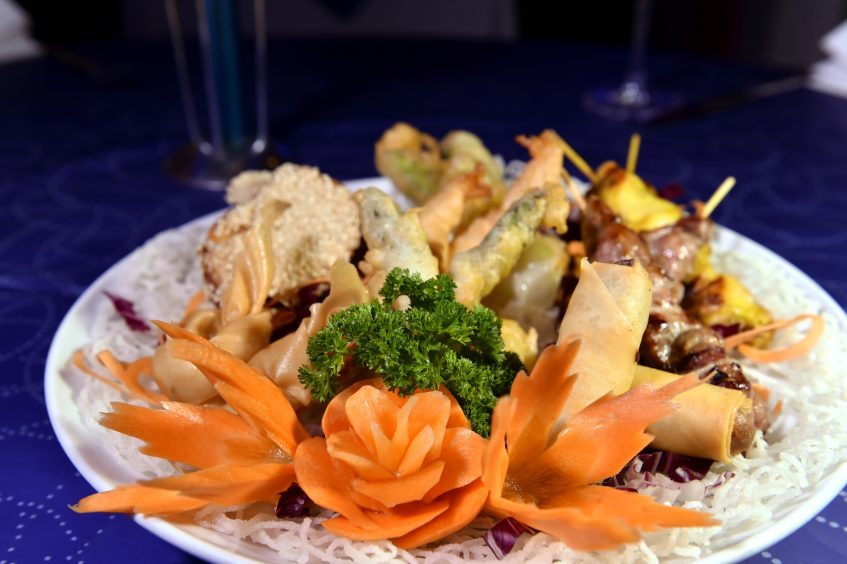 The chicken satay and fish cakes are the stars of the show, however, and next time I'll be opting for one of those on its own to start – they are just delicious.
For my main I went for the grilled chicken with peanut sauce (£9.95) and a side of egg fried rice (£2.95).
Again it was a hefty portion and the flavour from the sauce was excellent.
The chicken was marinated in Thai herbs and honey and topped with peanut sauce according to the menu and was impossible to fault.
Even the green vegetables that came alongside were cooked with perfect crunch.
Across the table, my substitute dining companion for the evening – my usual one is scared of "burny" food and refuses to join me at such establishments – punted for the honey chilli chicken (£9.95) with coconut rice (£2.95).
Again it was a hearty and tasty portion. And given that he has probably tried every honey chilli chicken dish in Aberdeen, his praise of the Royal Thai version can be considered high indeed.
Surprisingly though, the coconut rice won equally similar plaudits – the side dish almost becoming the star of the meal.
Given the amount we'd consumed between our starter and main course the dessert menu reluctantly had to be turned away … but I would have chanced squeezing in a another chicken satay skewer or crab cake, even at the risk of bursting my already heavily-stressed belt.
On the night we visited however, albeit a week night, the restaurant – which opened its doors in the city in 1992 – lacked much atmosphere due to the low number of customers, with only two other tables of diners.
Given the quality of food on offer, this was more than surprising – and it's not like it costs an arm and a leg, coming in at just more than £50 to feed and water two of us.
The attentive staff couldn't have been nicer or more polite and the restaurant is a nicely decorated, clean place where you feel completely comfortable and relaxed as you eat.
Next time I fancy a Thai feed I'll be back to this wee gem on Crown Terrace and if you find yourself hungry in the city centre and in the mood for some Asian grub there's not many better options around.