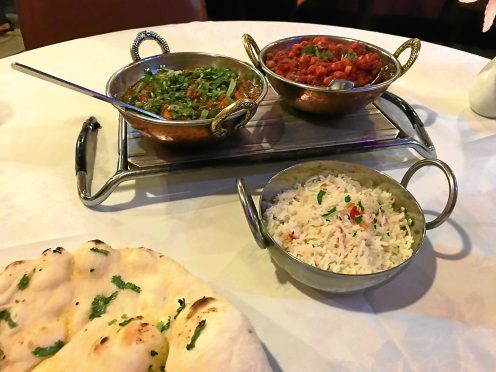 It's time to reset that old saying about familiarity … actually, it breeds content.
Well it certainly does in our household when it comes to having a fine meal out that doesn't involve one of us being the designated driver.
Tandoori Haven is just a wee walk from the house – and within easy reach of a couple of fine hostelries to retire to after – which is why it is one of our regular haunts.
This long-established eatery is almost as much a Stonehaven institution as Dunnottar Castle and the open air pool.
Certainly, it was jammed full of tourists the night we popped in – and plenty of familiar faces from the town, too. That's the thing about the Haven … it's a welcoming spot for both locals and visitors, giving it a buzzing vibe on a busy evening.
As we were welcomed like old friends and ushered to our table, Mrs B and I were nearly salivating at the fine food smells wafting through the room.
Now, given we were on a mission to have a beer or two after eating, we decided not to go mad on the starters and get so stuffed the only post-curry option was our couch at home.
So we skipped the poppadoms and shared a mixed kebab to start … and what a treat that was. With plenty of food on the plate we had one generous piece each of sheek kebab, chicken tikka and lamb tikka.
The kebab was a delightful affair, with a perfect texture that gave way to a real depth of lamb flavour, but with a massive zing of chilli to help just widen your eyes as you say "mmmm".
Both pieces of tikka were delicate and subtly flavoured, the benefit of a long marinade before their blast in the tandoor.
Starters done, they were whisked away as we sat and chatted about where we were heading for our Saturday beers.
We still hadn't decided when the main courses arrived with a flourish. Now we all know that the visual element of food is almost as important as the taste and the smell. Both our dishes looked superb, thick and saucy, an inviting colour that had us both wanting to reach for the spoons and dive in.
Mrs B had opted for a North Indian special with chicken.
It was a real melange of flavours, garlic front and centre, but with a ton of coriander giving it that freshness and depth.
With plenty of tomatoes as a tangy base, it was also chock full of fresh chillis. Mind you, Mrs B gave these "sneaky green beans" a miss, having bitten into one before and spent a few eye-watering minutes trying to calm her burning mouth.
Meanwhile, I was in curry heaven with my lamb dulhaniya – billed as a Pharsee wedding dish. I don't much about Pharsee weddings, but if this is what they serve up to guests I'm hoping for an invite sometime.
It was awesome. The lamb was mash-on-the-fork perfect, while the chickpeas shot through the dish gave a nice bite and an earthy touch for the tastebuds. The sauce held some delightful chilli spikes, but nothing too overwhelming.
The killer signature to this dish, though, were the bursts of lemon that emerged every few mouthfuls, that demanded a "gosh, that's good".
With a garlic naan and shared pilau, we were happy as.
And as for our beer mission … let's just say we were so sated Saturday night turned into Strictly on the couch. Which was a perfect end to a perfect evening.