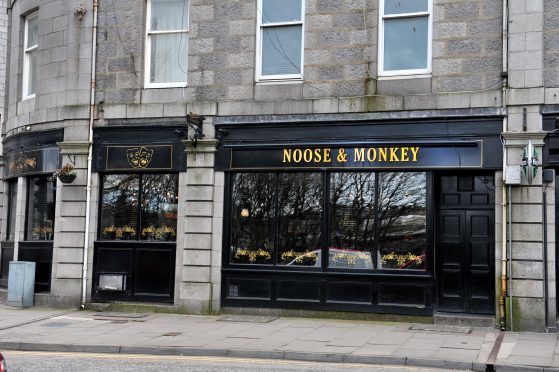 Stopping off on the way to the cinema one day, my daughter and I popped by this city centre hostelry – and were surprised and impressed by the choice on offer on its extensive menu.
So much so, we were a bit disappointed we only had time for a quick snack and made a mental note to return to do the place a bit more justice.
A quiet night in January seemed just the right time to return to brighten up a dull week with a fine feed at Noose & Monkey.
Being the traditionally quiet post-festive period, the smart, modern-styled dining area was pretty sparsely populated the midweek night we dropped by, and we were greeted with a warm welcome.
Alongside the more traditional pub favourites and snack menu, the eatery offers a tempting selection of inventive starters, chef's favourites, grill selections and tempting desserts.
The extensive menu posed the usual problem of making our decision a long process, but fish, chicken and spice were in good supply, so I knew I'd be happy.
I plumped for Thai crab cakes with spicy chilli and coriander house salsa and pickled cucumber to start. They were a delightful blend of tender crab meat, complemented with the spicy kick of the salsa.
My husband's tempura haggis croquettes with creamy parsnip puree and wild mushroom salad were a substantial helping of tasty, meaty haggis, though he felt the batter had a bit too much crunch, especially given the tempura description, but that didn't stop him finishing the lot.
The kids were saving space for dessert and chose to share warm breads and olives with humus to start, which were charmingly presented on a board with the humus served up in a little jar, along with oil and vinaigrette.
For his main course, my other half chose tandoori style monkfish, with coriander and chilli infused rice, deep fried capers and mini poppadoms, while I went for pan seared chicken breast infused with scotch bonnet chilli and topped with chilli cheddar cheese with sticky coconut rice.
The dishes actually looked very similar when they arrived, though I think I scored highest on spice content, the chillis adding a real edge to the perfectly prepared chicken, well matched with the coconut rice, with a coriander creme fraiche providing a welcome cooling complement to the dish.
My husband also enjoyed the chilli and coriander theme to the monkfish dish which I was happy to confirm with a bit of sharesies. And he liked the nice touch of the flavoursome fried capers served alongside, though he felt the fish portion could have been a bit more generous.
The youngsters went for more traditional choices, but their scampi, peas and tartare 
sauce, and Noose burger with cheese and bacon, relish, salad and fries were declared perfect.
And, as per plan, the two younger diners were keen to try out the dessert choice. They went for a chocolate overload, with both of them ordering the assiette of chocolate – complete with warm chocolate brownie, white chocolate mousse and dark chocolate tart served with orange chocolate ice cream. A bit rich for some, perhaps, but perfect for a sweet tooth. I was allowed a taste, and the chocolate brownie and chocolate ice cream were among the crowning glories.
All-in-all a pleasing discovery which was well worth revisiting.