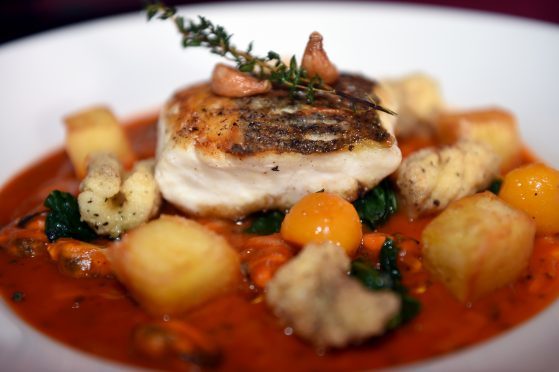 It was on a visit to take part in Dizzy's long-running pub quiz that I had a look at the restaurant's tasty sounding menu and made a mental note to return.
It had been a while since I'd eaten at this popular West End venue and I was keen to try out the fare since it has been taken over by new management.
A blustery weekday night saw my friend and I take the opportunity to drop by, and we were in good company.
A fair number of tables were taken, given it was a midweek night, including a large group who were keeping the staff busy.
We were swiftly seated in a corner spot and were happy to have a little pause, over a glass of a luscious Merlot, to check out the changes in Dizzy's and its menu.
Though not huge, the menu has plenty to please most tastes, with fish and chips and burgers listed among the Dizzy's Favourites, restaurant-style options among Signature Dishes and choice of steaks and surf and turf on the grill menu.
A fish fan, I couldn't resist the sound of devilled whitebait and crispy calamari with tartare sauce to start, and it certainly didn't disappoint.
The little fish in their crispy shell were delicious – a lovely crunch on the outside and tasty flesh within, while the calamari pieces were super-tender within a light batter.
Meanwhile, my pal was delighted with her twice baked blue cheese souffle, served with Waldorf salad. She shared a taste so I could confirm the souffle tasted just as fine as it looked. Feather-light, it boasted a strong blue cheese flavour and melting sauce. A real triumph of flavour.
Next up for me was another fishy choice, pan-fried salted hake with a squid and mussel stew.
I'd wondered about the sodium levels of the salted fish but needn't have worried. Whatever magical process it goes through in the kitchen produces impressive results.
The substantial fillet of fish was perfectly cooked, with a crispy finish to the outside, and nestled on a bed of greens.
The surrounding, lightly spiced broth was a perfect complement, with lovely chunks of squid and tasty mussels in it.
Chunks of roast potato and butternut squash dotted round the dish were just right for mopping up the delicious juices.
And they also made the skin-on fries I'd ordered – which were beautifully cooked and perfectly peppery – pretty much excess to requirements. I'll know to trust the chef to have balanced his dish next time.
Again, my pal reckoned she'd scored, this time with her choice of king prawn balti curry.
The warming, spicy blend, with a generous helping of prawns, wielded quite a kick, with spinach a welcome addition to the mix. The curry was well-matched with the sharp creaminess of the yoghurt-based minty raita, basmatii rice, naan bread and fresh herbs.
Our cleared plates were testament to the quality of the food.
And, though the chocolate torte and warm carrot cake – among the choices on the dessert men – were calling our name, we had to call a halt after two courses.
My contribution to the quiz team's efforts might have been below par to say the least, but our Dizzy's meal deserved full marks.