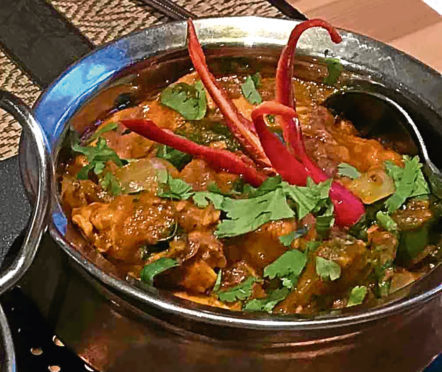 After a week-long eating and drinking tour to the likes of Dundee, Edinburgh and Newcastle, you need to round things off in style … Inverbervie.
So, what was the big attraction for the Mearns town?
We'd heard a new curry house had not long since opened and needed something to keep our spirits up as the harsh reality of work descended.
So, a quick run down the coast and we were walking through the door of Spice Cottage, pausing to admire the colourful planted shrubbery on either side of the entrance. Nice touch.
And that eye for detail continued inside, with a dining room that was all muted reds and a showcase wall that seemed to be made from wooden pallets, adorned with stencilled blue elephants.
Quirky and welcoming, adding a sense of showmanship to proceedings.
So, too, did our host for the evening, Ali, who was chatty, friendly and seemed absolutely delighted to see us – and not just because it was a quiet Monday night when we ventured in.
We were impressed by his passion for curry … and were impressed with the menu, too, a mix of standards, chef's specials and some new dishes for us.
However, as we tend to do with new places, we started with old favourites, just as a benchmark for what the kitchen can do.
In this case it can do things really well.
Mrs B's lamb tikka was one of the most generous portions of this dish I've clapped eyes on.
Almost the size of lamb cutlets, the pieces were melt-in-the-mouth tender. The marinade had imbued the meat with a subtle blend of flavours that made this an outstanding example of an old favourite.
My sheek kebabs involved two sausage-shaped offerings of minced lamb, shot through with herbs, spices and a hint of chilli to add some zing. Both of the tandoor dishes also arrived with grilled onion and peppers to add crunch plus a side salad of delicately-sliced cabbage.
There had been a wee pause for the starters to arrive but, as Ali pointed out, that's because their tandoor dishes are cooked fresh. Good things come to those who wait, clearly.
And we didn't have long to wait at all for our main courses.
As a huge lover of spinach in her curry, Mrs B had opted for the chicken sagwala. She was rewarded with a dish that combined the earthiness of spinach with the bright freshness of coriander, the tenderest chicken breast and plenty of sweet onion.
This was a glossy treat with a stew like consistency and a stunning depth of flavour.
We could have quite happily got stuck in about this with a spoon and gone home content.
But there were other goodies coming our way, in the shape of my choice of balti chicken jalfrezi.
There were all sorts of things going on in this dish. It was hot, it was sour, it was salty, it was sweet, it was everything a jalfrezi should be, up to and including the copious onions and garlic.
On the heat front, it was a slow build – but that was because I was working my way around the whole green chillis scattered through the thick sauce.
But, after building up to it, I bit into one and that brought the fireworks … and then some.
All of this was soaked up with fluffy pilau rice and the softest garlic naan.
Let's just say that Spice Cottage proved to be one of the highlights of our epicurean holiday.
---
What we had
Lamb tikka (£4.50) Sheek kebab (£4.50) Chicken sagwala (£9.95) Balti chicken jalfrezi (£10.95) Pilau rice (£3.25) Garlic nan (£3.50)
How much it cost
£41.05 (including drinks)
What we thought
Excellent curries made with the finest ingredients and served with real flair. There is a clear passion for the cuisine which is evident on the plate.
The surroundings also make for a pleasant dining experience, with its quirky wood pallet feature wall and atmospheric lighting, candles and stencils. Service is enthusiastically friendly.