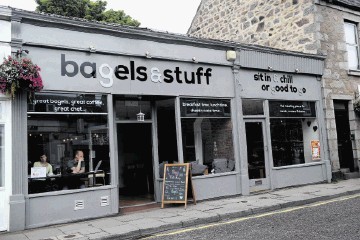 THERE'S something very exciting about coming across an eating spot you didn't even know existed.
It's even more exciting to discover it's got something a bit different on offer, and that something different is a something you really like to eat – bagels.
Not fans of a heavy lunch, Bagels & Stuff was the ideal spot for us to unwind with some uncomplicated grub. With a choice of eight different types of bagels, as well as ciabattas, pittas and a huge range of fillings, it was hard to choose, but the friendly staff just told us to take our time.
I opted for smoked salmon and cream cheese on a wholemeal bagel (£4.25), while my daughter went for fajita chicken, sour cream and hot salsa on a garlic bagel (£4.25).
Our lovely soft, fresh bagels were served on small wooden platters, which chimed perfectly with the rustic wooden tables and informal seating.
There was no shortage of filling in either of our selections. My smoked salmon was full of flavour, while the salsa on my daughter's mound of tender and tasty fajita chicken was spicier than she'd anticipated, but despite a wee bit of fanning to cool down her tongue, she said she really enjoyed her bagel.
This eatery is one new discovery we'd gladly make an old favourite.