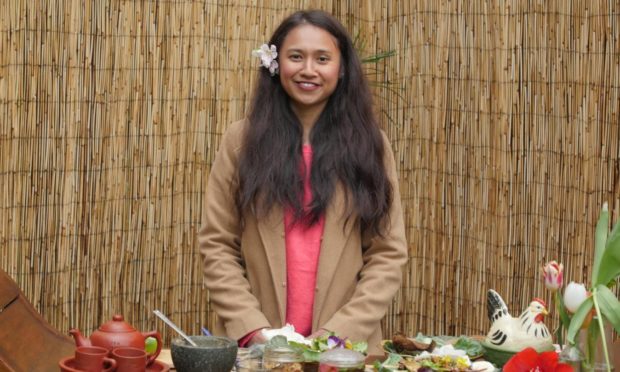 Banchory-based Indonesian Cook Dina Watt will appear on BBC magazine show, Beechgrove Garden, on a regular basis from this evening.
An Indonesian-born cook based in Aberdeenshire will be taking on a regular cooking slot on the BBC magazine show Beechgrove Garden.
Dina Watt, known as The Indonesian Cook, has been offered the opportunity to showcase her delicious native cuisine from her kitchen in Banchory throughout the series, though her appearance on the show will not be weekly.
Her first cooking slot will be aired on tonight's episode, at 8pm, during which she will cook a gado-gado salad, chicken satay side dish and a camellia mint iced tea.
On being asked to feature on Beechgrove Garden, Dina said it was an honour and that she's very excited to be a part of it.
She said: "It's an honour to be a part of the Beechgrove team. I have learned so much from Beechgrove and it feels surreal to be part of the fantastic team.
"I am very excited to be sharing my passion for cooking, art, and gardening on Beechgrove. I hope I can motivate others to garden in the way Beechgrove motivated me".
Growing up in Bandung, West-Java, Indonesia and now happily married and living in Banchory, Dina fell in love with the amazing scenery that Scotland offers and her love of nature and gardening fuels her passion for cooking, as well as her late grandma back in Indonesia, who Dina says she would watch using fresh ingredients from her kitchen garden.
Dina added: "I am not a professional chef, I just have a great passion for life, food, cooking and gardening. I believe it all started watching my late grandma in Indonesia using seasonal, fresh ingredients to cook us incredibly, delicious food.
"If there were any leftovers, the next day she would come up with a totally different yet amazing dish. The way she cleverly used her seasonal homegrown vegetables to the max fascinated me. She is definitely the main source of my inspiration."
Dina will share her own adventurous recipes for delicious home-cooked meals that are easy to make, mostly using the homegrown, seasonal, fresh fruits and vegetables from her own Scottish garden.
On this evening's episode, she will be cooking:
Main dish: Dina's special gado-gado salad
Dina says: "It is a truly simple, yet wonderful, dish anyone can try at home. What makes this one special is that it will use any available greens/vegetables from the garden.
"Gado-gado is a hearty Indonesian salad with cooked and fresh vegetables served with a peanut sauce dressing. I use vegetables such as purple broccoli, chards, kale, mix lettuces and bok choy. I also pick some herbs from the greenhouse and some beautiful pansy flowers from the garden to decorate the gado-gado, giving a nice finishing touch to the dish.
"Gado-gado is a perfect dish for vegetarians as well. If anyone has allergies to peanuts, the recipe works well with tahini as an alternative."
Side dish: Chicken satay with spring onions
Dina continued: "I have been re-growing spring onions (and bok choy) from food scraps and showcase these in this dish. Re-growing food is such a great idea to reduce food waste and I have plenty available at home in my vegetable garden and greenhouse.
"I also think a wee barbecue in the garden is never too early and I still cook on it regardless of the Scottish weather."
Drink: Camellia Mint Iced Tea
Dina said: "I have this beautiful bush of mint leaves which I have been growing for the past three years and I actually got from the reduced aisle from the local supermarket.
"The pot of mint was already looking dead but once I planted it into the ground and took care of it, it just became lusher every year. This drink showcases that gardening doesn't have to be expensive. It is simply amazing. They are back again sprouting this spring so it will be exciting to harvest them too for my special iced tea."
Beechgrove is BBC Scotland's gardening series presented by Carole Baxter, Brian Cunningham, George Anderson, Kirsty Wilson and Chris Beardshaw and is produced by Tern TV.
---
More from food and drink…
Home Harvesting: Growing our own produce takes root during pandemic
Indian Granny Kitchen: How a mother-in-law's passion for cooking inspired engineer to launch veggie food business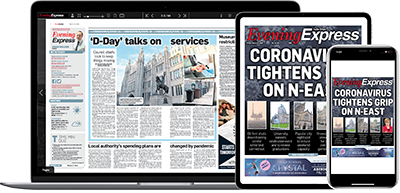 Help support quality local journalism … become a digital subscriber to the Evening Express
For as little as £5.99 a month you can access all of our content, including Premium articles.
Subscribe