The spook-tacular Circus of Horrors is set to storm the Beach Ballroom this Saturday in its most electrifying show – The Never Ending Nightmare.
Best known for their bizarre and outrageous acts, the alternative rock and roll circus is unlike anything else.
Dok Haze, the undead ringmaster who controls the chaos, is the show's creator.
He said: "It combines original rock music, live bands and brilliantly bizarre circus acts. It's as funny as it is scary."
Performing at the Beach Ballroom on Saturday night from 6pm, the Circus of Horrors celebrates its 21st anniversary with an Alice in Horrorland theme show.
Dok said: "We're in a different venue this time so we'll be performing the show in the round – this is a first for Aberdeen. It will be a really great atmosphere and you'll have amazing performers flying overhead. Every seat will be like a ringside seat."
With 24 performers, there's various talent throughout the show including a girl flying over the audience suspended by her hair, acrobats and a human pin cushion to name a few.
He said: "The pace of the show is non-stop and there's lots of fire and pyrotechnics.
"Expect to see bizarre and amazing circus acts which you would have only ever seen on TV."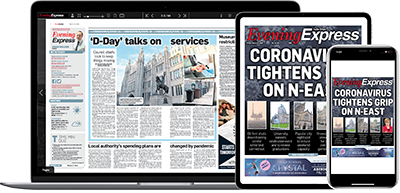 Help support quality local journalism … become a digital subscriber to the Evening Express
For as little as £5.99 a month you can access all of our content, including Premium articles.
Subscribe