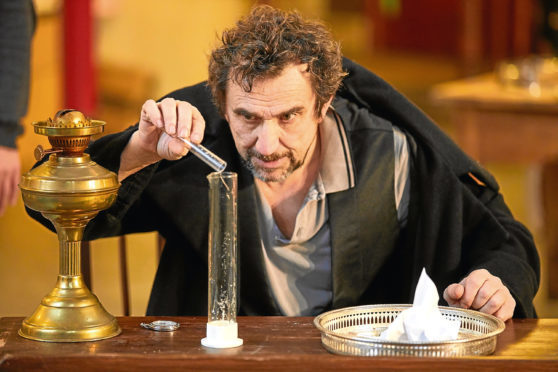 A captivating adaptation of a classic Gothic thriller is set to thrill the audience at His Majesty's Theatre.
Scottish author Robert Louis Stevenson was intrigued by the idea of how personalities can affect different people.
He incorporated the interplay of good and evil into his novella this drama is based on.
The Strange Case of Dr Jekyll and Mr Hyde –or simply Dr Jekyll and Mr Hyde – tells the story of mild-mannered scientist Dr Henry Jekyll who tries to repress his evil urges.
He hopes to mask his hidden evil by creating a special serum.
After taking the potion repeatedly, Jekyll unleashes his inner demon/alter ego Mr Hyde.
While the Touring Consortium Theatre Company's adaptation closely follows the book, David Edgar's version focuses more on Jekyll's personal relationships and how the lack of his father's love and interest affected him.
There are various interpretations of this story. While some believe Mr Hyde is a result of a failed experiment, others think Dr Jekyll uses Hyde to excuse his awful actions.
Acclaimed actor Phil Daniels, who portrays Dr Jekyll, as well as Mr Hyde, said: "When I first spoke to Jenny King (the show's producer) about Jekyll and Hyde, I was interested in the way sometimes when people have a drink they become different people.
"You know, they can be as good as gold one day but as soon as they have had a drink they become snarling animals.
"Even though there is a liquid that Jekyll does take that turns him into this monster or which exposes the darker side of his personality, that darker side is in him already. He just releases it."
For Phil, it is all about finding out why Dr Jekyll is also Mr Hyde.
The actor thinks there is a part of both of them in everyone.
He added: "There is a bit of snobbery in Hyde and a bit of swagger in Jekyll, but also a bit of swagger in Hyde too. It is the same with all of us I suppose."
The biggest challenge for Phil was to make both characters credible.
He explained: "What I do not want to do is make Hyde just evil, I want the audience to make their own mind up about who is the worst out of the two.
"One might be a villain and one might commit a murder but it is because of the other one's person-ality that he does it."
In Phil's imagination, Dr Jekyll is a posh Edinburgh doctor and Hyde is a Glaswegian.
He added: "I am burying myself in all that, but it is enjoyable getting deep into characters.
"Although I do not get deep enough to go around murdering people, of course," he laughed.
While the story is set in a Victorian era, Phil thinks it is still relatable and he hopes the story of good and evil will resonate with more contem-porary audiences.
The actor stated: "It is very much set in Victorian times but it is interesting that there are poorer people, although hopefully we look after our poor, ill and mentally disturbed people a lot better than they did in those days."
Even though Phil is best known for portraying Jimmy in Quadrophenia, he also gets recognised for his role in EastEnders.
He joked: "It depends on which supermarket you go to – it happens more in Lidl than Marks and Spencer, but there you go."
Dr Jekyll and Mr Hyde is set to premiere in Aberdeen on Tuesday at 7.30pm at His Majesty's Theatre.
The thrilling show runs daily until Saturday, February 24.
Performance times vary.