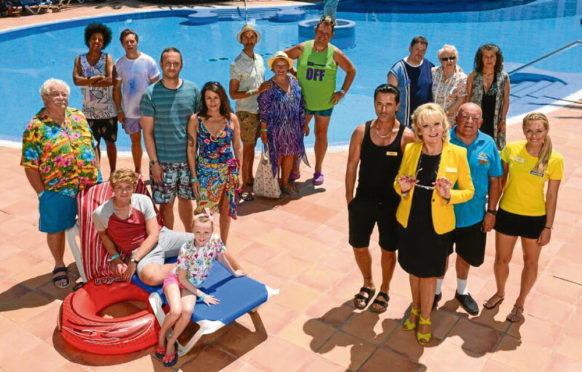 Look out your shades and shorts – ITV's hit comedy Benidorm is heading for the stage at His Majesty's Theatre.
Benidorm Live – with a cast of fan favourites from the programme – is just one of a raft of great shows announced for the new season of HMT.
That includes the first ever stage adaptation of Rebus, a new production of family favourite Dr Dolittle, the National Theatre's acclaimed Macbeth and outstanding musicals including Cilla, Rock Of Ages and Let It Be.
They will be joining previously announced shows such as Kinky Boots The Musical and Sir Matthew Bourne's Swan Lake.
One of the biggest draws looks set to be Benidorm Live, which will be at HMT from March 4 to 9 next year.
Benidorm creator Derren Litten has penned the first ever stage version and written a new set of Alicante escapades for the much-loved cast members.
They will include Jake Canuso (Mateo), Janine Duvitski (Jacqueline), Sherrie Hewson (Joyce Temple‐Savage), Shelley Longworth (Sam), Tony Maudsley (Kenneth) and Neptune's very own Asa Elliott.
Derren said: "I've loved 10 years of writing my TV show Benidorm, but despite a successful writing career I'm first and foremost a performer so have always been secretly frustrated I couldn't hear the audience's laughter.
"This national tour of Benidorm Live will not only make a long-lasting dream come true but will also mean I no longer have to stand in strangers' gardens listening at their windows at 9 o'clock on cold winter evenings."
Another stand-out in the new brochure, released this week, is the first stage take on Ian Rankin's detective Rebus, arriving from November 12 to 17 this year.
Penned by the North-east playwright Rona Munro, Rebus: Long Shadows is a brand new story, that sees the retired police officer haunted by nightmares from his past.
The cantankerous DI will be played by actor Charles Lawson, famous for his role as Jim MacDonald in Coronation Street.
Musical fans will be spoilt for choice, especially with a new production of family favourite Dr Dolittle arriving from March 12 to 23.
From the same producers of the recent tour of Chitty Chitty Bang Bang, it will feature huge, stunning puppets and a set designed by the man behind the poppies at the Tower of London, Tom Piper.
Also in the musical strand will be Cilla The Musical running from September 4 to 8 this year. It is a celebration of the Liverpool legend, played by Kara Lily Hayworth, who won out over thousands of other hopefuls for the role in a national competition.
Staying in Liverpool, the story of The Beatles, Let It Be, will recreate the highlights of their career and runs from February 11 to 16.
Sunshine On Leith begins its run next month from May 29 to June 2, and Rock Of Ages will get 2019 going with a bang, showing from January 29 to February 2. The highly anticipated Kinky Boots begins from April 23 until May 4 next year.
For dance fans, one of the hottest tickets will be Sir Matthew Bourne's Swan Lake, one of the most acclaimed versions of the ballet, best known for its menacing male ensemble.
Jane Spiers, chief executive of Aberdeen Performing Arts (APA), said: "We have a really packed line-up of shows and we are proud to be announcing a host of new and exciting work for audiences in Aberdeen and beyond.
"This is a programme worth travelling to the city for.
"A personal must-see for me is Sir Matthew Bourne's legendary Swan Lake and, as a Rebus fan, it will be a real treat to see Ian Rankin's much-loved detective brought to life on stage by North-east playwright Rona Munro."
Drama of another sort will also be offered with the National Theatre bringing Macbeth to His Majesty's from November 7 to 10.
This new interpretation wowed audiences and critics when it opened on London's Southbank last month, starring Rory Kinnear and Anne-Marie Duff.
Ben Torrie, APA's director of programming and creative projects, said: "It is a rare occurrence for large-scale Shakespearean productions to tour, so we are beyond thrilled that this spectacular staging of the Scottish play will be heading to HMT later this year.
"I'm sure audiences will be enthralled by this bold and fresh take on Shakespeare's greatest tragedy."
Tickets for the new shows will go on sale to APA Friends on Thursday, April 19, and to the general public on Tuesday, April 24.