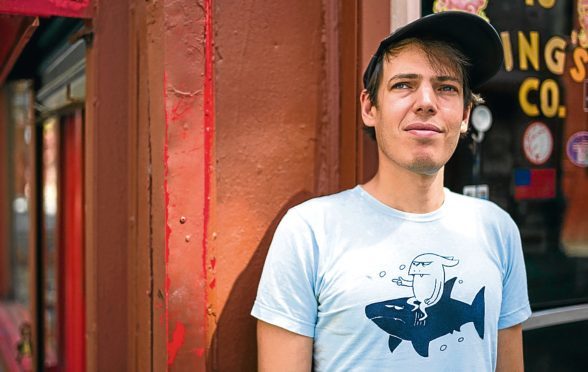 Anti-folk and underground comic book legend Jeffrey Lewis is relishing a return to the Granite City.
The 41-year-old, described by Pulp's Jarvis Cocker as the "best lyricist working in America", headlines The Tunnels on Wednesday, September 6.
It is the fourth time he has played Aberdeen in the last decade and the New Yorker admits the city left a strong impression on him.
Lewis will play Aberdeen as part of a Scottish tour that will also take in the Gallery in Braemar on Monday, September 11.
He said: "I like the city of Aberdeen a lot, especially the atmosphere there and the way the air felt."
As well as releasing a succession of subversive and heart-breaking albums, Lewis is also an established comic book writer.
His series of autobiographical graphic novels Fuff is now on issue 12.
One of the issues focused on his solo travels around the world as a youngster.
Does he still get that buzz of anticipation when arriving in cities for shows?
"It's a different feeling from when I was travelling as it's a thrill and a terror but in totally different ways," he said.
"It's less lonely as I have a show to play and fans to meet.
"It is no longer the feeling of wandering into a city where you know nobody, you know nothing and are just trying to find someplace cool to see, maybe find somebody to talk to."
Inspiring and wholly original, Lewis – who is from New York's Lower East Side – emerged within the city's alt folk scene in 1997.
He released a series of lo-fi albums before breakthrough releases on Rough Trade Records including It's the Ones Who've Cracked That The Light Shines Through.
A key release was 12 Crass Songs, radical reconstructions of the Anarcho punk greats' back catalogue, focusing on the cautionary lyrics of songs like The Gasman Cometh – particularly relevant in the current climate.
He said: "I love Crass, and I wanted some of their songs to be enjoyable to people who don't only want to listen to early '80s hardcore punk.
"At a certain period in history it might have been crucial for Crass to get those songs across by tying them to a certain attitude and style.
However, in a different period that attitude and style becomes a barrier to the songs, it holds the songs back instead of pushing the songs onwards.
"Crass is such an extreme case of style and substance, I wanted to see what the substance could do if it was removed from the style.
"The original Crass recordings are great and impossible to make any better, but the substance is strong enough to outlive that.
"People all over the world sing songs by Bob Marley, Bob Dylan and Woody Guthrie. There's no reason why they shouldn't sing Crass songs too."
Lewis' shows also incorporate low-fi bi-pics, essentially a monologue accompanied by the singer-songwriter flicking pages of a huge sketch-book with elaborate pictures.
He has tackled the Cuban Missile Crisis of 1962, The Complete History of Communism (Parts I-V), the life of Alan Moore and the French Revolution among many others.
Hopefully, Lewis will have an update to that cannon relating to the recent rise to the American presidency of Donald Trump.
"Culture is where people get most of their information from," explained Lewis.
"As a generator of culture, either with music or with art, it's amazing to see how much people really appreciate getting information on topics they didn't know about.
"I'm not interested in being a purely political artist per se.
"However, within the vast scope of human emotions and historical events it would seem a shame for me not to be making art about certain topics that I'm interested in learning more about myself.
"There's a void in people's picture of the world and it's up to the artists and writers and entertainers and filmmakers and musicians to tackle these interesting and not-told-enough stories."
As well as major cultural and historical events, Lewis has also tackled the history of influential bands. He has released a number of poetry fanzines concentrating on the early work of New York no wave pioneers Sonic Youth – entitled Sonnet Youth.
And Lewis was one of the trail-blazers of the anti-folk movement that included artists such as Lach, Major Matt Mason, Hamell on Trial and Mouldy Peaches.
Subsequent artists have been influenced by Lewis, who is tongue in cheek when asked if he hoped emerging artists were inspired by him to write.
"I'd rather have no competition from younger, cuter, smarter, richer, more-skilled people," he laughed.
Lewis is currently working on new material to follow up his most recent release Manhattan, recorded with his band Los Bolts.
That was recorded in 15 days in the studio, stretched out over a six-month period.
He said: "Every time I make an album I feel like it's the last one, because I don't have any good stuff left over, and I can't imagine how I could ever write another song, and I despair.
"Then somehow I end up on the other side eventually, with new material that I feel excited about, and I feel better than ever."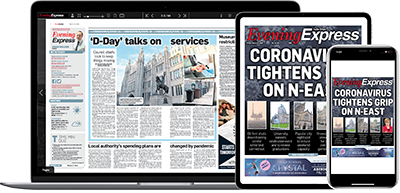 Help support quality local journalism … become a digital subscriber to the Evening Express
For as little as £5.99 a month you can access all of our content, including Premium articles.
Subscribe