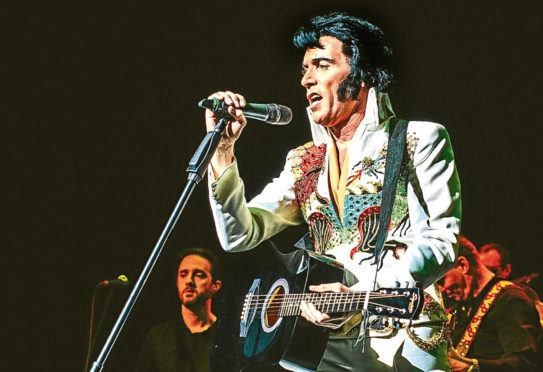 Elvis is back in the building – Aberdeen's His Majesty's Theatre that is.
"Europe's most successful" Elvis impersonator is hitting the Granite City stage tonight.
Lee Memphis King describes himself as being the greatest Elvis impersonator in Europe.
For 10 years he has been touring his One Night of Elvis show.
His new show, Vegas Years, celebrates The King's 1969-1977 music.
Hit singles such as The Wonder Of You, Heartbreak Hotel and American Trilogy are included in the set.
Seasoned fans of the chart-topping singer will be delighted to hear there will be some, less-popular, hidden gems.
Vegas Years is dedicated to Presley's seven year long Las Vegas residency.
Lee performs in authentic costumes designed by Elvis Presley's own costume designer, Gene Doucette.
His goal is to create an authentic Elvis experience for his audience.
Backing vocalists and an orchestra will bring the show to life.
Lee Memphis King – real name Roy Evans – has been touring since he won Toronto's Elvis Collingwood Festival in 2005. Elvis fans will be in for a magical night with the King.
The experience will be as close as you can get to the real deal.
The show starts at 7.30pm.