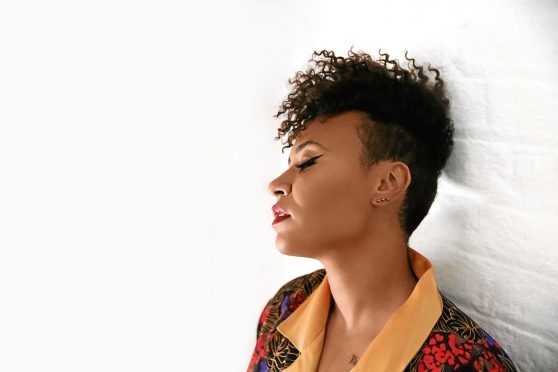 Emeli Sande has fallen in love with music again after throwing away the rule book and taking risks.
The Alford-raised chart superstar is back with new single Starlight, infused with optimism and hope.
The 30-year-old hopes not just this change but her entire career can act as inspiration for young women to become empowered to also get their voice heard.
Starlight is from upcoming EP Kingdom Coming which is out on November 3. Fans can get an early preview and hear Emeli's numerous hits in a homecoming show at the Aberdeen Exhibition and Conference Centre on Saturday.
Emeli said: "I have fallen in love with music again as I have taken off all the rules. When you enter the music industry sometimes you feel the pressure of what you think other people want you to be. Or the pressure of what people want to hear. You lose your passion a little bit because it becomes a bit too pressurised.
"Now I have forgotten about all that. You have to take a few risks, try new things and see what happens. You have to take a few risk, try new things and see what happens."
Having won four Brit Awards and two Ivor Novellos it would be easy to take the same path. Emeli doesn't do easy. She believes to be relevant as an artist requires her to embrace risk, remain honest, be strong and also be vulnerable.
It is an artistic bravery born from her upbringing in the small North-east village of Alford (population 1,925) and will see her headline the O2 Arena in front of 20,000 fans on this tour.
She said: "Growing up in Alford with a mixed race heritage it was almost like there were no rules.
"I could literally take parts from my dad's culture, parts from my mum's, some from Scottish culture and mix everything together. I have always felt confident and pretty assured that I don't have to conform to anything. That was quite impossible anyway and I quite enjoyed that freedom. I had a lot of women role models growing up such as Nina Simone who taught me to reach higher artistically."
The ascent to world stardom has been on Emeli's terms and she hopes this can be inspirational to other aspiring women artists.
She said: "I hope I can do things that are encouraging to women and I try to make sure everything I do is with a sense of self respect.
"I would hope that younger girls watching will feel inspired and empowered that they can be themselves and they don't have to do anything that makes them feel uncomfortable just to get their voice or talent heard.
"I try my best to be a good example but I am working things out myself. When I can I really want younger girl to feel confident and be themselves."
A stellar career has elevated Emeli to role model status, but the source of inspiration goes full circle as there were artists pivotal to her development. One was Mexican painter Frida Kahlo who explored issues of gender, class and race before her death in 1954. Emeli has a portrait of Kahlo tattooed across her right forearm. She said: "She was a very big influence and the older I get the more I understand her story. Frida Kahlo was a real guide for me in how to push yourself with what you are doing and how to be as raw and honest as you can to make something that will speak to people.
"It is amazing how she made something so beautiful out of so much solitude heartbreak and physical pain – it is very moving."
That artistic honesty was clear in Emeli's earlier single Hurts, a raw, honest take on heart-ache and loss. She admits it can be difficult to revisit those emotions.
She said: "You are constantly re-rubbing emotions when you sing them which takes a lot of energy. I love doing that because it is how I felt at that time and you can sing from a place of honesty. Now I am feeling a lot lighter and it feels more natural to sing something like Starlight."
Emeli will make an emotional homecoming to Aberdeen on Saturday and will perform in front of friends and family.
She said: "It is always very special to play Aberdeen as my mum and dad are still there and they bring my friends. There will be people in the audience that will have seen me performing at school shows.
"My new single Starlight is quite different for me as I feel it really reflects how I am feeling at the moment. I feel very positive and wanted that to come out in the music. The last album was very emotional and serious.
"I enjoy making music like that but I wanted to do something that people can dance to as well which really feels good."