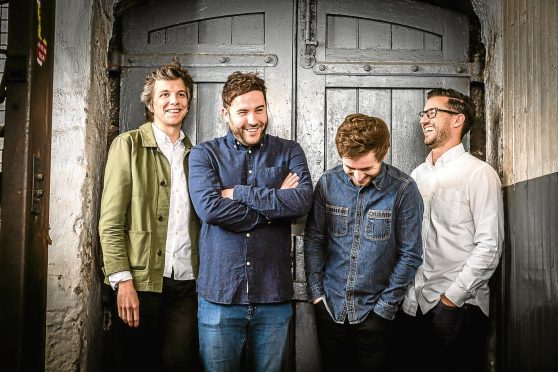 The Little Kicks aim to maintain the momentum of their most successful year to date by writing new material in 2018.
The release of album Shake Off Your Troubles last March was the catalyst of a memorable year for the Aberdeen band who now boast fans as far afield as Japan.
It was a year of critical acclaim, sell-out shows, BBC television sessions and high profile support slots and singer Steven Milne is keen to strike while the iron is hot by starting work on new material.
Steven said: "I feel like we have jumped up a notch in the last 18 months and people are really into the new material.
"It is not just people from Aberdeen who like our music, as I just went to the post office with merchandise orders to Japan, Germany, Holland and Italy.
"We are definitely going in the right direction."
Shake Off Your Troubles was recorded over 10 productive days of isolation at a lodge on the banks of Loch Ness and subsequently mastered at the famous Abbey Road studios.
Steven has already began rough outlines of material he hopes will form the basis of the follow up.
However he insisted The Little Kicks, who headline King Tut's Wah Wah Hut in Glasgow tomorrow, will not force the creative process and will allow new songs the room to breathe.
He said: "I have started to write at home, putting down some tentative ideas
"We bought some new toys with a new synth and other stuff as a pat on the back for the enjoy-ment of last year.
"I will be good to strike while the iron is hot because the reaction to the album was strong and gave us a lot of confidence. Harnessing that would be a good idea.
"There is no harm in starting now and seeing how we get on.
"If there are songs there, lets record them but if they are not coming together we can tour more. Sometimes it takes two weeks to write a song, sometimes it takes six months, so you don't want to rush it.
"Whenever we have pushed it though it has never been the better of the material.
"The best stuff sits and gestates for a while. We are not in a hurry to release a new album.
"The last one took a few years to put together, as we like to do things properly."
The Little Kicks profile rocketed when they performed a Quay Session for the BBC.
Recorded live in front of a studio audience at the BBC's Pacific Quay studios, the influential programme also included performances from Mogwai, Belle and Sebastian, Arab Strap and The Charlatans.
Steven said: "The Quay Sessions were weird as there is an audience of around 200 seated in the studio at the Quay.
"They are all there for a gig so you have to entertain them but at the same time you are being recorded for radio so you don't want to make a mistake.
"On top of that you are also being filmed for television, so you have to look like you are comfortable doing that as well.
"You can become like a rabbit caught in the headlights if you actually stop to think about all the things you are doing.
"I have to admit that before we played I was very nervous and was pacing about.
"They do the Quay Sessions in sections where you perform a couple of tracks, have a chat, then have a break, then do another couple of songs.
"Once we got the first section out of the way and our head around what it was we were okay.
"Being asked to play for the BBC was a big deal."
Another highlight of a break-through 2017 was an intimate acoustic show in a living room in Edinburgh with American indie rock legends The National.
The show was part of the refugee charity event Give A Home 2017 and was organised by Sofar Sounds and Amnesty International.
Steven said: "Playing with The National was amazing as the show was on an afternoon in the lounge of someone's house.
"The gig was in front of around 60 people and it was us, The National and Fatherson.
"I am a pretty big fan of The National so playing on the same bill was special.
"It was totally unplugged so you play to the room with your instruments with everyone sitting on the floor, which makes you quite exposed but we did a good job of representing our set.
"We were on first so we got our set out the way and were able to enjoy it after that."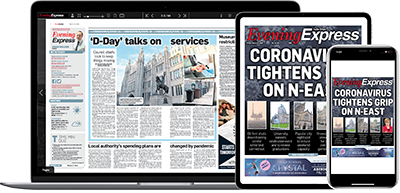 Help support quality local journalism … become a digital subscriber to the Evening Express
For as little as £5.99 a month you can access all of our content, including Premium articles.
Subscribe