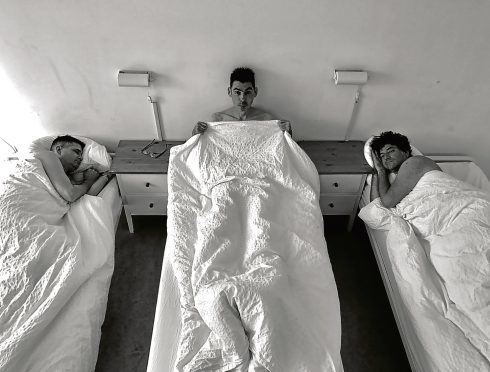 Shellac front-man Steve Albini has been one of post-rock's most influential, visionary and caustic voices for three decades.
As a musician he has released influential records with Shellac, who headline The Lemon Tree on Tuesday, and Big Black.
As a producer Albini has overseen albums by Nirvana, Pixies, Stooges, PJ Harvey and Godspeed You! Black Emperor.
However it is his work with Chicago minimalist noise trio Shellac and 80s noise greats Big Black that his legacy will endure.
Securing Shellac is a major coup for the Lemon Tree and Albini reckons the audience will play as vital a role as the band.
He said: "In Shellac we have made a long tradition of engaging the audience and asking them to feel like they are part of the show.
"In between songs we'll see if anybody has any questions as we are all in this together.
"It's not us playing a show and them paying to be the audience.
"We don't like the layers of artifice in most performances, and we do what we can to make everyone in the room feel like they're participating in an experience for all of us.
"It isn't us in the band putting on a show for the audience, it's all of us doing a show for all of us.
"We get to experience the concert just like the audience, so we're deeply invested in making the gig a complete experience for ourselves as well as everybody else."
On stage Shellac have a powerful simplicity and a remarkable ability to go from raging, crushing sound to complete silence in a heartbeat.
The trio have not released an album since Dude Incredible in 2014, their fifth since 1994 debut At Action Park.
Albini said: "Shellac is quite episodic and we put records out very sporadically.
"We'll work on a record in the background for sometimes a couple of years, then finally book some studio time then do a recording.
"Then we'll sit on it for six months or a year, then come back to it and finish it.
"It takes us a very long time to make a record, and that's just owing to the place of the band in our lives.
"For none of us is it our premier enterprise.
"It means a lot to us, being in Shellac is the single best thing that I get to do every year.
"However on a day-to-day business level, I've got bills to pay, I have responsibilities I have to uphold."
Albini pays the bills by producing bands at his Electrical Audio studio in Chicago.
He has produced hundreds of albums including Nirvana's In Utero, Pixies' Surfer Rosa, Slint's Tweez and Low's Things We Lost in the Fire.
"When we first opened the studio the neighbourhood around it was desolate," he said.
"Several times stolen cars were brought behind the building at night and set on fire by local criminals.
"The colour of the flames flashing through the glass block windows of the studio was beautiful."
Albini also realised a life-long ambition when worked with The Stooges on The Weirdness, their first new album since 1973's Raw Power.
He said: "That was awesome. I feel like it's almost unfair for me to have my wildest dreams fulfilled in that way.
"Very few people get to be astronauts or become president.
"But I got to spend a month hanging with The Stooges."
When searching for a producer for their third album following their global breakthrough, Nirvana turned to Albini.
They wanted In Utero to be far removed from the polished production of Nevermind.
With Albini the band decamped to the isolated Pachyderm Studio in Cannon Falls, Minnesota to record their final album before Kurt Kobain's death.
Albini said: "It was a very straightforward session and we spent in total less than two weeks on the record.
"The band was very well prepared and had rehearsed the material extensively.
"They had their sounds together and Kurt knew exactly which guitar and which amplifier he wanted to use on every song.
"I can't really express how much my admiration for that band grew during the course of making that record.
"I was familiar with them but I wouldn't have considered myself a fan prior to working on that record. But during the making of that record, I genuinely came to respect them as artists."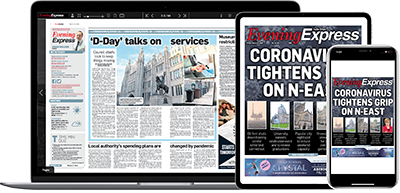 Help support quality local journalism … become a digital subscriber to the Evening Express
For as little as £5.99 a month you can access all of our content, including Premium articles.
Subscribe