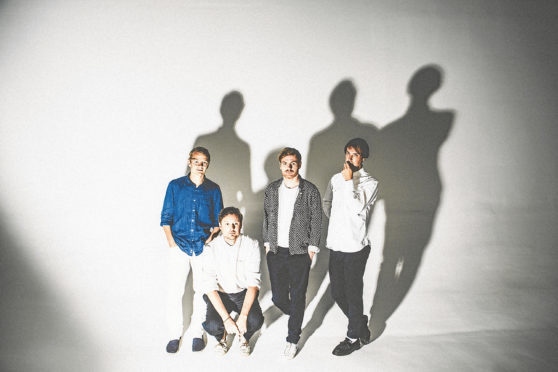 Sonic adventurers Django Django admit their live shows are radically different to their recorded output.
The London-based art rockers headline The Garage on Tuesday to promote new album Marble Skies which was released last month.
Django Django are a gestalt of krautrock, psychedelia, electronica and indie.
Synthesiser operator Tommy Grace admits their dense, multi-layered studio output has to be distilled for the live environment. And it works, as they are one of the most vital live acts around now.
Tommy said: "We love playing live as it is a good change from being in the studio.
"When we are recording we are rarely all in the room together making music.
"It is a case of writing alone or in pairs or threes.
"Then we start recording into the computer where we overdub and cut and paste.
"Eventually we then have something we are happy with.
"Then we sit around scratching our heads wondering how we are going to play it live as the songs have around 30 parts.
"It is a case of sitting in the studio and trying to work out the most important parts of a song and distil it down.
"On stage we treat songs very differently."
Django Django make a welcome return to the Granite City having played a number of packed concerts.
However, the crowd at one of their earliest shows in the city was more sparse.
He said: "I like Aberdeen, it is a beautiful city.
"We've had some memorable gigs in Aberdeen although one of them was a really low turnout.
"However it turned out to be a brilliant show as those that turned up were really up for it and there was loads of room for them to dance about."
Concerts also offer Django Django an immediacy that they relish and feed off.
He said: "We are used to being artists and putting paintings up in exhibitions.
"There is no immediacy of what people think of your work with that.
"With live music there is no faking it. If they like it you can tell immediately and that is what I love about it."