A new teaser trailer for the much anticipated Love Actually sequel filmed in aid of Comic Relief sees actor Andrew Lincoln brandishing his famous flash cards as the cast also poke fun at one of the film's stars Colin Firth.
The popular Richard Curtis film is being revisited with a 10-minute sequel, Red Nose Day Actually, that will be shown on Friday as part of the activities taking place.
A host of stars from the 2003 comedy-drama are featured in the trailer including Keira Knightley, Liam Neeson, Hugh Grant, Chiwetel Ejiofor and Martine McCutcheon.
The 60-second teaser, set to Etta James's At Last, does not feature Firth, but sees the stars each brandishing a large flash card with a different message on it.
McCutcheon holds a card saying "We'll meet again in …", followed by Ejiofor's card finishing the sentence with "Red Nose Day Actually".
In the film, Firth's character, Jamie, falls in love with Portuguese housekeeper Aurelia, played by Lucia Moniz.
Moniz holds up cards saying "Tune in to see what happened to everyone", followed by Knightley's reading "And amongst other things, which one of us has aged best. One thing's for sure … "
Grant then teases his reply with a card saying: "It's not Colin Firth."
Neeson reckons it is him, while actor Thomas Sangster, who played Firth's on-screen son Sam, holds up his reply saying: "Whatever I've grown up."
Mr. Bean star Rowan Atkinson, who starred in the film as a quirky shop assistant, is also featured, as is actor Bill Nighy.
 Red Nose Day broadcasts on BBC One on Friday March 24 from 7pm-10pm, followed by other specials on the same channel. BBC Two's coverage starts at 10pm.
 Viewers can donate on the night either online at bbc.co.uk/rednoseday or by phone using 03457 910 910 or lastly, through text. To donate £10 by text, text YES to 70210 and to donate £20 text YES to 70220.
 People can also bid in a charity auction for a host of prizes, among them a trip to Los Angeles to meet James Corden and the chance to have breakfast with seven of the Doctor Who's.
Visit the website www.givergy.com/charity/red-nose-day.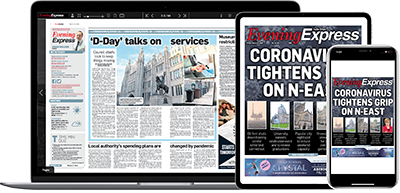 Help support quality local journalism … become a digital subscriber to the Evening Express
For as little as £5.99 a month you can access all of our content, including Premium articles.
Subscribe