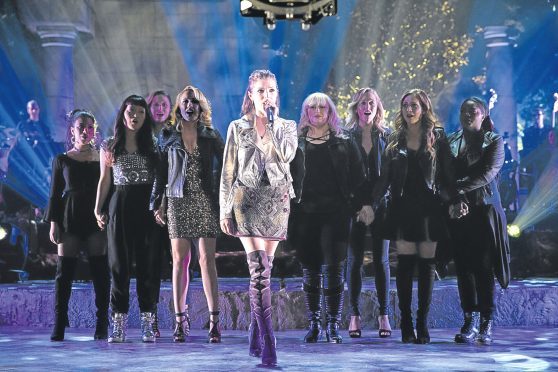 After a rollicking reunion in the effervescent 2015 sequel Pitch Perfect 2, delightfully dysfunctional a cappella champions The Barden Bellas are, frustratingly, off-key and out of sync for their teary-eyed farewell tour of the musical comedy franchise.
Despite some cute moments and a nostalgic montage of behind-the-scenes footage over the end credits, director Trish Sie's film is one rousing chorus of sisterly solidarity too far for these harmonious heroines.
Screenwriter Kay Cannon hits emotional bum notes for the first time.
A cacophony of hastily composed character arcs falls flat and the luminous Anna Kendrick is almost relegated to backing singer in the ensuing madness.
Crushingly, John Michael Higgins and Elizabeth Banks are little more than feedback as brilliantly waspish commentators John Smith and Gail Abernathy-McKadden.
They are shoe-horned into the background under the flimsy pretence of making a fly-on-the-wall documentary about the Bellas' final hurrah "as these women approach 30 and cease to be valuable as human beings".
Higgins and Banks deserve better. So do we.
The majority of the Bellas have left college. It's a hard knock life without the unstinting support of the sisterhood as Beca (Kendrick) discovers when she quits her job as music producer after creative differences with an artist.
Soon after, opportunity knocks for the Bellas to reform for an overseas tour with the United Service Organisations (USO), which entertains the United States Armed Forces.
Beca and room-mate Fat Amy (Rebel Wilson) trade hugs with the rest of the gang including Aubrey (Anna Camp), Chloe (Brittany Snow), Cynthia-Rose (Ester Dean), Emily (Hailee Steinfeld), Flo (Chrissie Fit) and softly spoken beatboxer Lilly (Hana Mae Lee).
Arriving at a naval station in Spain, the Bellas are crestfallen to learn they will be competing on the tour against three other bands including guitar-heavy girl rockers Evermoist led by sneering siren Calamity (Ruby Rose).
The Bellas are going to have to tune up their pitch-slapping putdowns and aca-dapt to win first prize of a support slot at a concert headlined by DJ Khaled (playing himself).
Pitch Perfect 3 is engineered to a familiar beat punctuated by melodious musical mash-ups but Sie's uneven picture ends the travelling sisterhood's reign atop the musical comedy charts with a whimper.
What a crying aca-shame.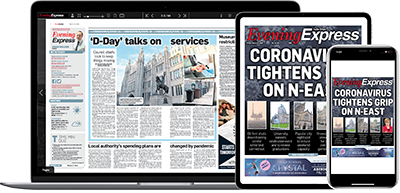 Help support quality local journalism … become a digital subscriber to the Evening Express
For as little as £5.99 a month you can access all of our content, including Premium articles.
Subscribe