Good things come to those fans who have waited two-and-a-half years for the rousing conclusion to the Maze Runner saga, based on James Dashner's post-apocalyptic trilogy for young adults.
Boyishly handsome lead actor Dylan O'Brien was seriously injured on the set of the final chapter and production shut down for almost a year to allow him to recover.
Real-life drama hasn't impacted noticeably on Maze Runner: The Death Cure, which is a fitting swansong punctuated by bombastic action sequences set to a thunderous score composed by John Paesano.
The film accelerates into top gear with a breathlessly staged opening flourish on a moving train, and a full-throttle chase involving a bus crammed with escaped prisoners is a vertiginous delight with a deliciously droll punchline.
Director Wes Ball, who has helmed all three instalments, neatly ties up loose narrative threads and provides emotional closure, including a couple of heart-tugging farewells to beloved characters.
Undeniably, the 142-minute running time is excessive but we should be thankful that Maze Runner hasn't followed the money-grabbing examples of The Hunger Games and Divergent and needlessly cleaved the final source book into two overstuffed films.
The script locks and loads verbal artillery aimed squarely at the current US administration when one rebel stares despairingly at the gleaming metal fortress of the World Catastrophe Killzone Department (W.C.K.D.) and deadpans, "The walls are new. I guess that's W.C.K.D.'s answer to everything."
The Death Cure unfolds shortly after the upheaval of The Scorch Trials.
Thomas (O'Brien) and fellow "Gladers" now know their blood holds the key to engineering a cure to the deadly Flare contagion, which has reduced humanity to flesh-hungry predators known as Cranks.
Good friend Minho (Ki Hong Lee) remains a prisoner of W.C.K.D.'s Machiavellian lead physician, Ava Paige (Patricia Clarkson), and trigger-happy assistant director Jason (Aidan Gillen).
Consequently, Thomas orchestrates a daredevil rescue mission aided by Newt (Thomas Brodie-Sangster), Frypan (Dexter Darden), Brenda (Rosa Salazar) and her surrogate father Jorge (Giancarlo Esposito).
"It's funny," quips Newt. "We spent three years trying to break out and now we're trying to break in."
En route, the team encounters a familiar face from the deadly maze trials and Thomas confronts his conflicted feelings for turncoat Teresa (Kaya Scodelario).
Maze Runner: The Death Cure builds on the propulsive second film, affording each member of cast with a moment to shine in welcome lulls between spectacular set pieces.
O'Brien lowers his emotional guard and lets the tears flow as his tortured protagonist learns the painful truth of Rosa's sombre warning: "You can't save everyone".
Gillen perfects a cornucopia of sneers and snarls as the climax's boo-hiss villain.
Plausibility is frequently sacrificed for high-octane thrills but it feels churlish to quibble about the laws of physics when (wo)mankind's survival teeters in the balance.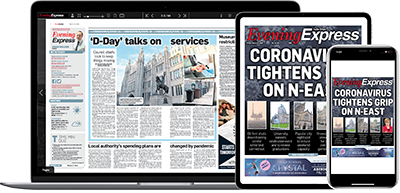 Help support quality local journalism … become a digital subscriber to the Evening Express
For as little as £5.99 a month you can access all of our content, including Premium articles.
Subscribe