Released to commemorate the centenary of the end of the First World War, director Saul Dibb's thoughtful tour of duty with British soldiers on the front line expands R. C. Sherriff's moving 1928 stage play without sacrificing too much of the psychological intensity.
Screenwriter Simon Reade ventures beyond the claustrophobic confines of an officer's dugout in the days leading up to the Spring Offensive, the setting for Sherriff's anthem to doomed youth.
His lean script trudges along muddy, collapsing trenches and sprints into No Man's Land, where the loss of young lives is brought home in a disorienting barrage of sound and fury: rat-a-tat gunfire, exploding shells and blood-curdling screams heralding a concerted push by the Germans that is supposed to break the Allies' resolve.
Anguished silences between soldiers, resigned to the grim inevitability of a final stand, cast a pall over stage versions and stoke dramatic tension.
That relentless march of time is lost somewhat in Dibb's elegiac screen adaptation, which marshals the technical might and artistry of the moving image to visualise devastation that can only be alluded to on the page by Sheriff.
New characters have consequently been added to the play's rank and file but the emotional fulcrum remains an inexperienced officer, Raleigh, played with haunting tenderness by 20-year-old Asa Butterfield.
The character's naivete is powerfully conveyed in the calm before a daylight raid into enemy territory, when the fresh-faced Second Lieutenant comments, "This waiting is like being summoned to the headmaster".
Raleigh (Butterfield) successfully petitions a high-ranking relative to transfer him to the company commanded by old school friend Captain Stanhope (Sam Claflin), who made a big impression on Raleigh's sister.
Fizzling with youthful optimism and innocence, Raleigh arrives at his new post on March 18, 1918, oblivious to the impending German onslaught.
He is greeted by Lieutenant Osborne (Paul Bettany), who has served alongside Stanhope for some time and witnessed his superior's whisky-soaked rages fuelled by fear and self-loathing.
"You'll find him changed, I expect," warns Osborne, who is known affectionately as Uncle.
Stanhope is indeed a changed man and Raleigh is shocked by the Captain's fractious exchanges with fellow Second Lieutenants Trotter (Stephen Graham) and Hibbert (Tom Sturridge).
When the Colonel (Robert Hardy) discloses the likeliest date for the German attack, March 21, the Captain readies his company, bolstered by cups of tea brewed by Private Mason (Toby Jones) in the mess.
Journey's End is an assured and largely understated depiction of the unwavering resolve and gallantry of British soldiers, who bid farewell to each other with a hearty "cheerio".
That word is tinged with melancholy in Reade's script, which provides a superb ensemble cast of homegrown talent with meaty roles.
Claflin's spiralling paranoia contrasts with the authoritative calm of Bettany's avuncular old bean, who steadies nerves with a comforting smile.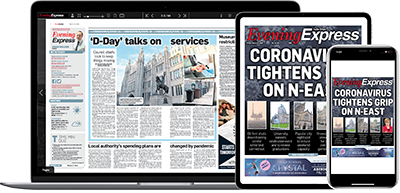 Help support quality local journalism … become a digital subscriber to the Evening Express
For as little as £5.99 a month you can access all of our content, including Premium articles.
Subscribe