According to the opening sequence of writer-director Christian Gudegast's retread of the superior 1995 thriller Heat, Los Angeles is the bank theft capital of the world, notching up a robbery every 48 minutes.
It takes considerably longer than 96 minutes to carry out the two explosive heists that bookend Den Of Thieves, a bullet-riddled yarn of rule-bending cops and taunting criminals that lacks the lip-smacking promise of Robert De Niro and Al Pacino's first shared screen time, or the nervous energy of Michael Mann's direction.
Instead, Gudegast's picture plays out its bruising battle of criminal enterprise versus rough justice using the permanent glower of Canadian actor Pablo Schreiber and the hulking physicality of Paisley-born action man Gerard Butler.
Sadly, the latter can't maintain a firm grasp on his American accent and unexpectedly gifts his corrupt Los Angeles sheriff a fleeting Scottish burr.
Heat isn't the only influential 1990s thriller plundered by Gudegast, who engineers at least one narrative twist that feels like a cheat in hindsight.
None of the men on screen, including those brandishing police badges, play by the rules. Nor does the puppet master behind the lens.
There's no honour among thieves and only a modicum between this filmmaker and his wrong-footed audience.
A risible coda suggests that if enough people fall for the sleight of hand, Gudegast isn't finished with the dubious deception.
Ex-con Ray Merrimen (Schreiber) and his crew bungle the robbery of an armoured truck outside a petrol station, where two unsuspecting police guards have made a pit-stop for coffee and doughnuts.
"We're cop killers now," laments Merrimen, aiming that jibe at trigger-happy getaway driver Donnie (O'Shea Jackson Jr), whose nervous actions could have dire consequences for muscle man Levi (Curtis "50 Cent" Jackson), surveillance expert Bosco (Evan Jones) and technical wizard Mack (Cooper Andrews).
Hard-drinking detective Nick O'Brien (Butler) is assigned to the case with his posse of police reprobates comprising Benny (Maurice Compte), Gus (Mo McRae), Murph (Brian Van Holt) and Tony Z (Kaiwi Lyman-Mersereau).
They suspect Merrimen's involvement and begin surveillance, just as their prime suspect secretly unveils plans for the theft of 30 million US dollars from the Federal Reserve in downtown Los Angeles.
As hunters and prey circle each other, Nick contends with his self-imploding marriage to spirited wife Debbie (Dawn Olivieri).
Den Of Thieves celebrates tribalism between morally bankrupt men on both sides of the law.
Butler and muscular co-stars engage in competitive macho posturing, building to a climactic shootout that is starved of tension despite some frenetic editing.
The ponderous script tosses out glib one-liners like, "People with things to hide don't have much to say".
Writer-director Gudegast's heavily armed film has plenty to say with a vocabulary of bullets, grenades and furrowed brows.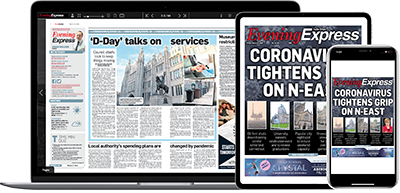 Help support quality local journalism … become a digital subscriber to the Evening Express
For as little as £5.99 a month you can access all of our content, including Premium articles.
Subscribe