Director Colin Trevorrow's eagerly-anticipated follow-up to rampaging dino-blockbuster Jurassic World is a different lumbering beast.
Clumsily concocted from equal parts rites-of-passage drama, terminal illness weepie and revenge thriller, The Book Of Henry is that car accident on the other side of the motorway that irresistibly draws eyes that should be concentrating on the road ahead.
If the slang term "hot mess" hadn't been coined, it would be freshly minted and polished for Trevorrow's film about a precocious savant, who conceives the perfect murder of an abusive neighbour, then asks his mother and younger brother to carry out the plan when a brain tumour renders him incapable.
A deeply moving first half sketches family dynamics with flecks of humour, underscored with scintillating performances from two-time Oscar nominee Naomi Watts and Jacob Tremblay, child star of Room.
Fourteen-year-old Jaeden Lieberher, who scene-stole the 2014 comedy St Vincent from Watts and Bill Murray, commits a similar act of thievery here in the title role.
Screen-writer Gregg Hurwitz quickly exhausts our cache of goodwill by demanding gargantuan suspensions of disbelief in the second half as Watts' suburban mother hen metamorphoses into an avenging assassin with a sniper's rifle.
She carries out her boy's plan by following a tape recording Henry prepared in advance, which includes pauses for her spontaneous interjections and his own pithy retorts.
Susan Carpenter (Watts) relies on her gifted 11-year-old son Henry (Lieberher) to manage the household finances and protect his weakling brother Peter (Tremblay), while she earns a meagre wage as a diner waitress.
They live next door to police commissioner Glenn Sickleman (Dean Norris), whose teenage step-daughter Christina (Maddie Ziegler) is the object of Henry's unspoken affection.
When Henry witnesses an unspeakable act in the Sickleman household, he employs his brilliant mind to plot Christina's salvation but his proposed methods set alarm bells ringing.
"Violence isn't the worst thing in the world," professes Henry.
"What is then?" asks Susan.
"Apathy," coldly replies her son.
The Book Of Henry is held together – just – by the lead trio, who anchor their characters to heart-breaking reality when screenwriter Hurwitz is feeding them a symphony of false emotional notes, while Sarah Silverman offers spunky comic relief as Watts' co-worker, who pokes merciless fun at Henry's mental acuity.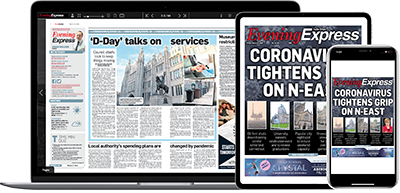 Help support quality local journalism … become a digital subscriber to the Evening Express
For as little as £5.99 a month you can access all of our content, including Premium articles.
Subscribe