With its impassioned, tub-thumping messages of self-belief and individuality, A Wrinkle In Time is certainly not A Waste Of Time for the target audience of peer-pressured teenagers, who are force-fed an airbrushed version of "reality" on social media channels.
Nor is director Ava DuVernay's picture the emotionally rich call to arms that it earnestly strives to be, hamstrung by gaping plot holes, inconsistent characterisation and a steadfast reliance on swathes of digital effects to propel the narrative towards its syrupy conclusion.
Fantastical realms crammed with otherworldly flora and fauna, reminiscent of James Cameron's mega-blockbuster Avatar, provide an eye-popping backdrop to a 13-year-old girl's painful coming of age during a madcap time-travelling quest to locate her missing father.
The pacing is frenetic, in part to distract from loopy logic, which results in an exhausting 109 minutes of style over meaty, heart-tugging substance.
The glittering jewel in the film's wonky tiara is 14-year-old lead actress Storm Reid.
With a deftness beyond her years, she beautifully captures the awkwardness and aching vulnerability of her heroine, who constantly questions whether she possesses the strength to achieve her otherworldly destiny when she is repeatedly driven to tears by barbs from her neighbour Veronica (Rowan Blanchard), queen bee of a catty coterie of popular girls.
Gifted student Meg (Reid) has shunned friendship since the disappearance of her father Alex (Chris Pine) four years ago during his ridiculed experiments into space travel via a frequency-generated tesseract.
Meg's mother Kate (Gugu Mbatha-Raw) valiantly holds the family together and cares for her daughter and precocious adopted son, Charles Wallace (Deric McCabe).
During a walkabout in the neighbourhood, the siblings encounter Meg's classmate Calvin O'Keefe (Levi Miller) followed by three astral seers named Mrs Whatsit (Reese Witherspoon), Mrs Who (Mindy Kaling) and Mrs Which (Oprah Winfrey).
This extravagantly attired three-strong chorus reveals that Meg's father is alive in another dimension and they need the children's help to locate Alex before an insidious evil named The It pollutes the universe with hatred, jealousy and self-loathing.
"You just have to find the right frequency and have faith in who you really are," Mrs Which tenderly assures Meg.
Leaping between magical kingdoms, Meg, Charles Wallace, Calvin and their guides encounter a quixotic soothsayer called The Happy Medium (Zach Galifianakis) and a diabolical henchman (Michael Pena) who preys on the children's darkest fears.
Based on Madeleine L'Engle's 1962 novel, A Wrinkle In Time is less than the sum of its expertly crafted parts.
Reid's fearless performance demands we care about Meg and urge her onwards to glory.
Winfrey glides serenely through every frame replete with rhinestone eyebrows, while Witherspoon predicts doom and gloom under her breath because of the children's obvious insecurities.
"They're human, they're very limited," she laments.
So is DuVernay's picture.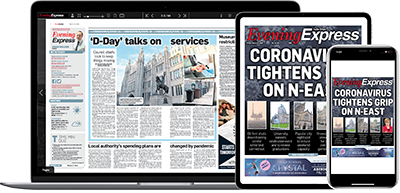 Help support quality local journalism … become a digital subscriber to the Evening Express
For as little as £5.99 a month you can access all of our content, including Premium articles.
Subscribe