ICELANDIC director Baltasar Kormakur heads for the highest peak on earth for a gripping drama based on true events, which cast a deathly shadow over the mountaineering community in 1996.
Everest is a slickly orchestrated recreation of an ill-fated ascent to 29,029 feet above sea level, where altitude sickness silently stalks the most experienced climbers.
From this literally breathtaking vantage point, one wrong movement or the slightest change in Mother Nature's volatile temperament can be fatal.
Rob Hall (Clarke) and Scott Fischer (Gyllenhaal) lead rival expeditions, racing against one another and the elements to ensure their clients are on top of the world.
Unlike his rival, Rob takes a fastidious, cautious approach to each ascent with his company Adventure Consultants, promising his pregnant wife Jan (Knightley) that he will return soon for the imminent birth of their daughter.
His base camp team includes mother hen Helen Wilton (Watson), medic Caroline Mackenzie (Debicki) and fellow guide Andy Harris (Henderson).
Clients on Hall's ill-fated May 1996 expedition include respected journalist Jon Krakauer (Kelly), postman Doug Hansen (Hawkes), doctor Beck Weathers ( Brolin) and Yasuko Namba (Mori).
As Rob and Scott's teams approach the summit, a fierce storm rumbles nearby, threatening to trap the climbers and guides on the rock face.
Everest doesn't quite scale the dizzy emotional heights to which it aspires and it's not always easy to distinguish characters when tragedy strikes in the eye of a storm, but there is no escaping the nerve-racking suspense that holds us in a vice-like grip.
Kormakur's decision to shoot his picture in 3D adds a vertiginous, stomach-churning extra dimension to this high-wire fight for survival.
These brave souls might be instructed to keep their heads up, but we have no choice but to stare at the jagged wall of rock and ice that stretches down towards oblivion.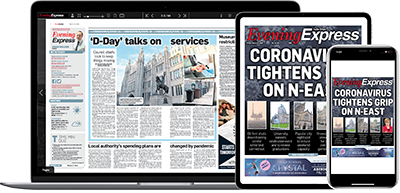 Help support quality local journalism … become a digital subscriber to the Evening Express
For as little as £5.99 a month you can access all of our content, including Premium articles.
Subscribe