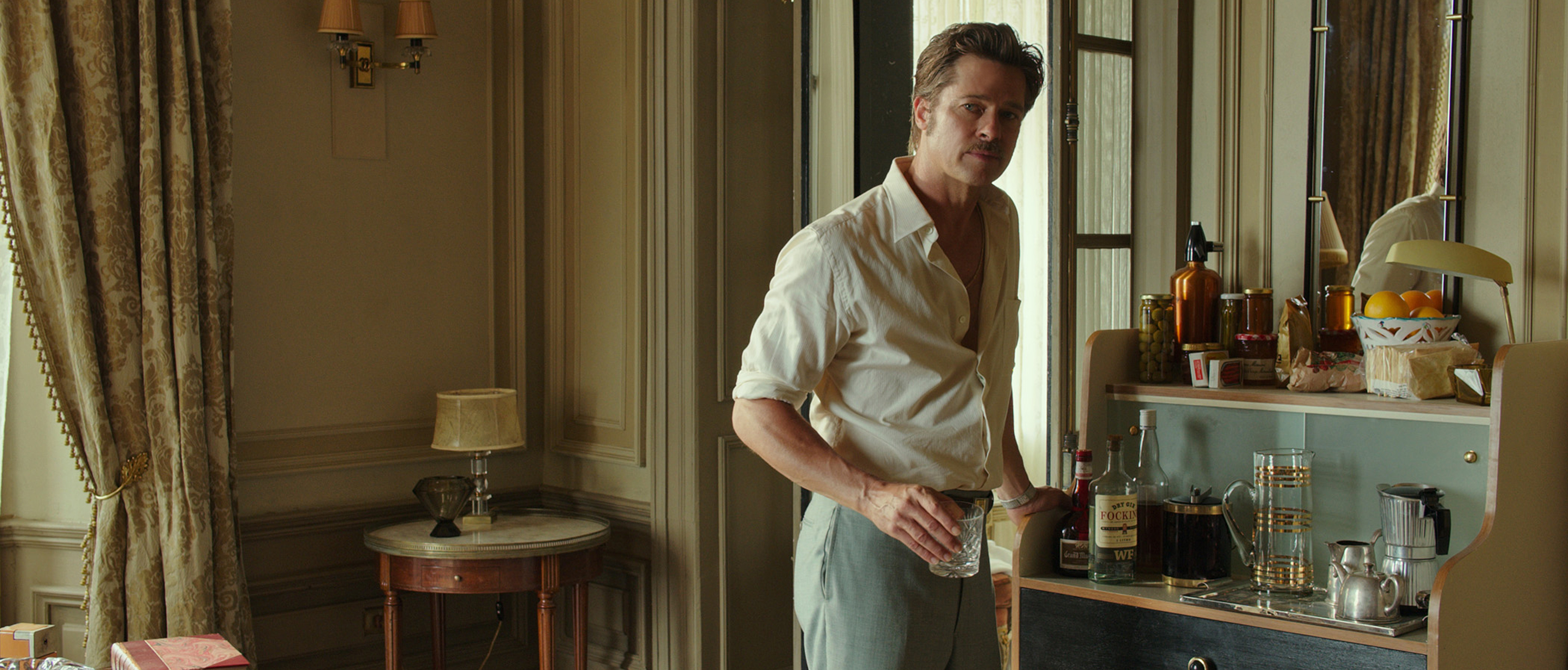 Achingly cool style casts a disdainful glance at substance in Angelina Jolie Pitt's languorous examination of marital discord set in a 1970s resort in the south of France.
The vicarious thrill of observing one of the world's most famous celebrity couples blur reality for their art as a husband and wife in turmoil, quickly evaporates when it becomes evident that the script and a robust plot are the least of the film's trifling concerns.
An unintentionally hilarious opening line of dialogue – "I smell fish!" – delivered with utmost seriousness by the director, writer and leading lady, sets the tone for By The Sea.
The period detail is impeccable, from the sleek convertible that delivers the couple to their sun-baked Mediterranean idyll to the pristine designer luggage that accommodates the numerous costume changes that herald each overwrought scene.
Tears flow freely, sending dark rivulets of non-waterproof mascara down Jolie Pitt's cheeks as she shields her eyes from the midday sun behind large Yves Saint Laurent glasses.
When Pitt's long-suffering spouse quietly informs one of the French locals, "She's not so easy to love," we share his pain.
Every frame is speckled with woe.
With a running time of just over two hours, that's a lot of misery and self-loathing.
By The Sea opens with New York author Roland (Brad Pitt) and his wife Vanessa (Angelina Jolie Pitt) arriving at a hotel, where he hopes the sea air will unclog his writer's block. Tension between the couple is palpable.
"Have a nice day," Roland tells his wife as he heads down to the hotel bar to trade stories with bartender Michel (Niels Arestrup).
"I won't," laments Vanessa.
"I know," sighs her husband.
The air of melancholy momentarily lifts when newlyweds Francois (Melvil Poupaud) and Lea (Melanie Laurent) check in to an adjacent suite and Vanessa discovers a hole in the wall that allows her to spy on the new arrivals, who hop into bed with frenzied regularity.
At first, this voyeurism seems to stoke the smoldering embers of Vanessa and Roland's dormant desire.
However, her fixation on the couple next door errs dangerously close to a voracious and all-consuming obsession.
"I don't think I like this game any more," Roland warns his self-destructive wife.
By The Sea is undone by a plodding, impotent script that struggles to verbalise the central couple's turmoil.
"I like belonging to something, someone," remarks Vanessa in one of the film's more lucid moments.
Protracted scenes of Jolie Pitt lounging morosely on her balcony pass without incident, casting us as the increasingly impatient voyeurs of a woman on the verge of a nervous breakdown.
When the big reveal finally comes and we learn of the reason for the wife's suffering, it's an anguished cry in the dark that fails to curry our sympathy.