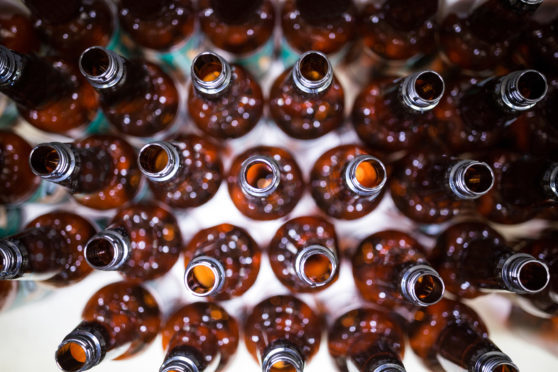 Around the world in 80 (not quite) beers …
There's a bit of a globetrotting feel to this week's beer round up …
BrewDog are welcoming their American cousins, Six°North are being inspired by a Belgian artist and Fierce have been off to Denmark … all of that plus votes are open for the Midsummer Beer Happening in Stonehaven. Enjoy
scott begbie
Odds and suds
Oh say can you see …
You've probably heard about BrewDog's US brewery at Columbus, Ohio, gaining traction  – and you can taste the fruits of their labour from tonight.
BrewDog Castlegate is hosting a a USA tap showcase – including two of Brewdog USA's brews. The bar's general manager Craig Fallenstein is excited at the prospect of the From Columbus With Love showcase.
He said: "The US beers were launched at the AGM and this is the first time we've had them on our taps here at Castlegate. We have the Juggergnaut which is an 8.8% American IPA and we have a prototype Hazy double IPA.
"I think it's really cool for us to see what they are doing over there and taste some of their beers, so we are all super-excited."
Craig added that the event sees Castlegate showcase four other Stateside beers  – Central Waters'  Space Ghost; Bruery's Tart of Darkness; ATG's  Maple Bocking Pastries and 7th Son's – Scientist.
"We will have a selection of some epic US beers on for today (Friday).
Brolly good
Quite often what's in your glass can be a work of art… but what about the glass itself?
Well those clever chaps over at  the Six°North Brewery have decided their beers need something eye-catching to hold them and have come up with an arty new pint glass to be rolled out in their Aberdeen and Edinburgh bars as well as the Marine Hotel in Stonehaven.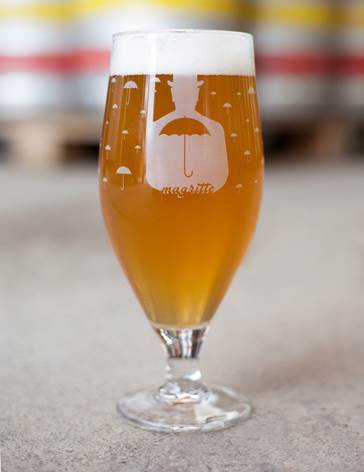 6DN designer Matt Carrington said: "The design was inspired by the work of Belgian surrealist artiste Rene Magritte. He was well-known for creating thought-provoking images and would use everyday, normal objects in an unusual context within his work. We take influence from pioneers like Magritte to help us think outside the box."
The glass reflects a common theme in Magritte's work  – umbrellas and enigmatic men in bowler hats.
Matt said: "We chose that design because it's eye-catching and iconic… and besides, we all need a brolly in Aberdeen. We think our customers will love the new glasses. We enjoy hearing all the different interpretations customers have of them."
As for why lavish such care and attention on a glass, Matt has a short answer.
"Great beer deserves great glassware. It's as simple as that."
Wonderful, wonderful …
Aberdeen's Fierce Beers have been off on their travels again, this time to wonderful, wonderful Copenhagen.
This week they took part in tap takeover and meet the brewer event at a renowned bar in the Danish capital.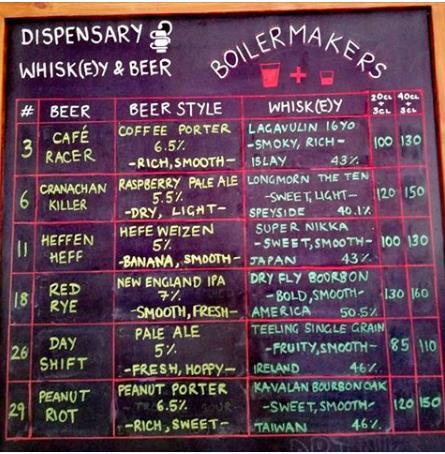 Louise Grant. sales supremo for Fierce said:"It's an amazing beer whisky and beer bar called the Dispensary, which is owned by a friend of ours,  Leigh Fitzgerald. He specialises in boilermakers (beer with a whisky chaser)."
Judging from The Dispensary's chalk board there were some marriages made in heaven going on there.
As well as flying the flag in Denmark, Fierce have been playing host closer to home.
Louise said: "Yesterday we had a collab brew day at Fierce HQ with Chorlton (the acclaimed Manchester brewers)  All will be revealed about the recipe later!"
To honour the visit, Fierces's Aberdeen bar has some of Chorlton's sours on, including Grey Matter and Mango Sour, plus a one-off batch of Fierce's own Raspberry Tart on keg only.
What's your poison?
Over at Midsummer Beer Happening HQ, they've decided offering more than 120 beers at the Stonehaven event next month just isn't enough.
They want visitors to have a say in the selection too and have launched an online poll giving beer fans a choice of some of the brews on offer when the Happening kicks off from June 28 to 30 in a marquee in the town's Baird Park.
Matthew Bennet, who is curating the Happening's beer selection, said: "We will have a lot of special beers on at this years festival (as we do every year). However, this year we're giving  folks the opportunity to vote on some of the beers they'd like to see (and drink) at the Happening."
The five-day poll, which has been running since Tuesday, sees two beers go head-to-head each day. The one with the most votes will be featured at the hugely-popular Happening which attracts around 5,000 people with its mix of beer, food and music.
Beer fans still have a chance to vote on the remaining contenders and check out who's won so far. Just head over the Happening Facebook page.
Tune in …
Over at Six°North's Aberdeen bar they've turned their Six Degrees Of Sound up to 11.
Well, they've gone from it being a monthly session of fine acoustic music to weekly, running each Wednesday from May 16 on.
Bar general manager Kerr Sellars said: "It's exciting news that we are going weekly with Six Degrees Of Sound, to be hosted by Michael James. For our launch night on Wednesday we have an eclectic mix of Aberdeen's finest talent."
The line-up includes: Blair Chisholm, Mark Buchan, Isaac Barnes, Bryn McLernon and Keir Smith (of Vansleep) and Michael James and The Bedheads.
The cool sounds kick off at 7pm.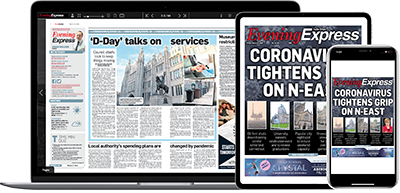 Help support quality local journalism … become a digital subscriber to the Evening Express
For as little as £5.99 a month you can access all of our content, including Premium articles.
Subscribe