The new series of Game Of Thrones is landing next month, and, for once, not even the bookworms know what is going to happen.
A trailer for series six was released to much fanfare, particularly as it is the first series which departs from the novels written by George RR Martin.
https://twitter.com/GameOfThrones/status/707299452424327168
With nothing but the trailer to go on, we decided to have a look at what we can gleam from the exclusive 101-second insight into the new episodes.
1. It is not looking any cheerier.

If one thing has defined the Game Of Thrones series so far, it has been relentless misery.
At some stage, something unspeakably dreadful has happened to nearly every character.
So why change a winning formula? The series six preview, scored by a gloomy cover of Chris Isaak's Wicked Game, has the anticipated mixture of violence, anger and upset.
By now, GoT viewers are thick-skinned, battle-hardened creatures, so this is all to be expected.
2. Adolescence has hit Bran Stark HARD
The difficulty with filming a sprawling TV epic over the course of many years is that the actors can mature at a quicker rate than their characters.
And this is nowhere more noticeable than on the now-manly features of Bran Stark, played by Isaac Hempstead Wright.
Bran has appeared intermittently throughout the last few series and this time it looks his quest north of the Wall has drastically accelerated the ageing process.
3. More characters are dying

This doesn't appear to be anyone important being laid to rest – hopefully – but we're not prepared to get complacent.
4. No, those pesky White Walkers have not gone away
As if growing up wasn't already hard enough for the inevitably angsty Bran, he now has to deal with the seemingly unstoppable undead getting on his back.
The malevolent presence of the White Walkers has been increasing apace throughout the series and it now looks like they are primed to put a stranglehold on Westeros.
Bran also appears to be stood for this showdown, which suggests puberty might have cured his paralysis as well his squeaky voice.
5. Dragons!
First seen kicking ass, later seen sulking in a cave and finally roaring through the skies, the dragons have been a highlight in Game Of Thrones.
Danaerys, the so-called Mother of Dragons, exited series five riding one of her, erm, children, away from danger.
But the new trailer suggests her steed might not have got the best Uber rating, as this time she is travelling by foot.
6. The siblings are still at it
Unlike Danaerys and her dragon, Jamie Lannister and his sister Cersei still don't seem to have fallen out.
We really wish they would.
And finally, it goes without saying, this one contains spoilers.
7. Jon Snow appears to still very much be dead
Speculation has raged around whether Jon Snow, the illegitimate son of Ned Stark and one of the last-remaining nice guys, was killed in series five.
He was stabbed by his mutinous comrades on the Wall and left for dead – and the new trailer opens with his apparently lifeless body lying in the snow.
But, until we see a death certificate, we are not buying it.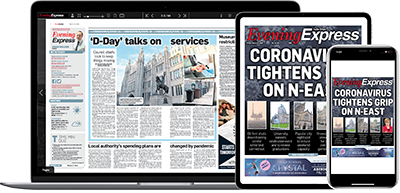 Help support quality local journalism … become a digital subscriber to the Evening Express
For as little as £5.99 a month you can access all of our content, including Premium articles.
Subscribe