Win the chance to bring your guests on the first night in Mackie's new ice cream parlour.
Mackie's are moo-ving into Marischal Square to open their first ever ice cream parlour – just in time for Christmas! Happy times!
We have reserved the new booth seat for eight people on the first night – to offer our readers the chance to get into a seriously indulgent moo-d.
Our winner will be invited to bring their party for a VIP visit and be treated to anything on the menu – in the best seat in the house – and leave with a bag full of chocolate & a voucher for more ice cream!
Four runner up prizes of a complimentary parlour visit for four people.
Just take our poll and leave your details below to enter the draw to win first night sundaes in Mackie's 19.2 with your friends.
First prize winner can invite their family and friends along on the first night of opening and treat them to anything on the menu. Have a look at the menu here for a gloriously sweet choice – and some difficult decisions!
There's going to be ice cream galore – over 20 flavours in a Mackie's mix of old favourites and some new!
There's more ice cream – in the pretty ice cream lollies, ice cream sundaes, ice cream cannolis, ice cream milkshakes, ice cream floats and ice cream with waffles, crepes, cakes and chocolate.
You can also enjoy a Mackie's 19.2 coffee, hot chocolate or a cold drink.
We'll have four runner up prizes too – winners can pop along to the parlour with their family or pals and enjoy a complimentary parlour visit for four.
The runner up winners can also choose any ice cream treats and a hot drink from the #mackiesmenu and go home with a box of chocolates.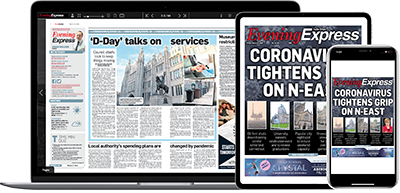 Help support quality local journalism … become a digital subscriber to the Evening Express
For as little as £5.99 a month you can access all of our content, including Premium articles.
Subscribe